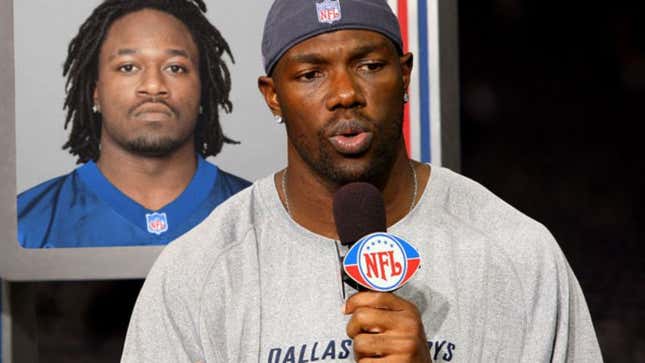 IRVING, TX—Upon hearing that team owner Jerry Jones had traded draft picks to the Tennessee Titans for troubled cornerback Adam "Pac-Man" Jones, Cowboys wide receiver Terrell Owens held a press conference to discuss his personal misgivings over acquiring a troubled player whose me-first personality and history of off-the-field issues could potentially damage the team.
This Week's Most Viral News: September 29, 2023
"I think my character speaks for itself," Owens told reporters after arriving late to the press conference in his custom Hummer, which he parked on the sidewalk directly in front of the Texas Stadium press entrance. "You all know what I think of players who are locker-room distractions, who can't play with the team, who always have to be in the spotlight. I'm warning you—this 'Pac-Man' guy has the reputation of being one of those self-centered types no one can stand."
"You heard it here first," Owens added, taking time to glare at each camera present for at least 10 seconds. "From me, TO. No need to ask any else. That's it. That's all. That's the final word, everything the best wide receiver in the NFL has to say. Period."
Owens then spent 25 minutes reading aloud from a list of every problem Jones had experienced during his troubled three-year tenure in the NFL.
"He's been in fights at nightclubs, he's been implicated in a shooting at a strip club—a strip club!—in Las Vegas. Las Vegas!" Owens said after finishing the list. "Several times he's been around people who were involved with drugs. Drugs, man. Drugs. And he has been observed on more than one occasion being openly disrespectful to women. And now he's a Dallas Cowboy? It doesn't make any sense. I'm just glad that Michael Irvin isn't around to see this."
Owens then fell silent for several minutes, his anger evidently transformed into sadness, before suddenly producing a large bottle of painkillers and attempting to swallow the contents. Upon being restrained by security, Owens addressed what the acquisition of Jones would mean to the team as a whole.
"The Cowboys have always been the good guys, the character team, the class act, the golden boys of this league, the one everybody cheers for, the underdog, the nice guys, the pillars of the NFL community, the symbol for hard work and clean living, the team player's team, the modest and humble ones—in short, everything I've tried to stand for as a player," Owens said, punctuating each word he spoke by forcefully striking the lectern with a custom-made, Swarovski-crystal bedecked "T.O." water bottle. "How could Jerry Jones—how could the Cowboys—how could the NFL—how could God in Heaven let this happen to me? To me!"
Owens then repeated the word "Me!" at the top of his lungs roughly 20 times before bursting into tears and collapsing to the floor.
"I just think it's sad that I should have to put up with it, not to mention Tommy [sic] Rommell [sic], who tried so hard to throw me the ball last season, and the, the defense, the defensive, you know, players, and coach… Coach… Yeah, and Coach, too, and I. No one wants to deal with a guy who doesn't even know other people exist. Ask anyone, or better yet, ask me. I am not that guy."
Owens then indicated that he would take five questions from reporters, but became angry upon being asked if he thought Jones should have been banned from the NFL for life.
"I don't want to hear anyone talking bad about Jones," Owens said, his voice breaking as tears streamed down his face. "That's my teammate. That's my cornerback. Mine. Mine. Mine."