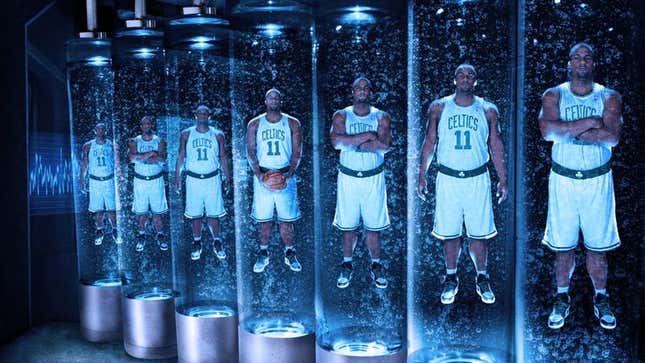 BOSTON—Celtics shooting guard Ray Allen told reporters he made a terrifying discovery Wednesday, stumbling across a genetic research laboratory located deep beneath the TD Banknorth Garden and filled with thousands of test-tube "Big Baby" Glen Davises.
Study Finds LSD Highly Effective At Ruining Nephew's Baptism
A visibly shaken Allen confirmed he had been searching the basketball facility for an ice pack when he happened across a previously unseen elevator, which he took to subbasement 11. Shuddering while recalling the unpleasant experience, the 10-time All-Star said the elevator doors opened onto a vast laboratory filled with countless 12-foot-tall glass tanks, each containing an individual floating Glen Davis.
"There was no end to this massive room, just these huge vats with identical Big Baby Davises stretching off into the distance," said Allen, adding that the laboratory also contained numerous scientific apparatuses, ominous surgical tools, and several operating tables. "It was so bizarre. They weren't moving, but they were definitely alive."
"I walked up to one of them, tapped on the glass, and the test-tube Big Baby inside opened its eyes," Allen continued. "I just kind of panicked and started screaming, and then the liquid in the tanks started bubbling and all the Big Babies were screaming in unison."
Despite his fears, Allen's curiosity pushed him to further investigate what appeared to be dozens of vat-grown Glen Davis clones wearing Celtics uniforms. Allen, who clutched his hands over his face, called the legion of test-tube Big Babies a clear violation of nature.
"After a closer inspection, I realized they were actually in various stages of development," Allen said. "From what I've gathered, it appears to take about eight weeks for a Big Baby to mature from an embryo to a full-grown 6-foot-8, 289-pound Glen Davis."
"At first I thought some of them were deformed or genetic mutations," Allen added. "But I seem to remember Glen was just weird-looking like that as a kid."
Allen reportedly examined the glass cylinders and various files scattered throughout the lab and determined that the mysterious greenish fluid inside consisted of a mixture of water, carbohydrates, B vitamins, and electrolytes. In addition, Allen located a small electronic screen on the base of each vat displaying the Big Babies' current vital signs, genetic-code data, and up-to-date NBA career statistics.
Allen said he also found a laboratory notebook that seemed to indicate the Celtics were implanting defensive schemes, playoff memories, game plans, and inspirational speeches from Doc Rivers into the minds of the Big Baby Davises.
"I just can't understand why the Celtics would need or want so many Big Babies that act and play exactly the same way," Allen said. "He's okay, but you'd think that with all this advanced technology they would at least try to improve him a little—maybe make Big Babies that are taller, better shooters, and a little less annoying in the locker room."
According to Allen, as he searched other areas of the laboratory, he saw a multitude of freakish, bloodcurdling sights, including a room full of arms and legs identical to Kevin Garnett's, a dusty freezer full of failed prototype Larry Bird chins, a shelf containing approximately 50 jars of formaldehyde-preserved Paul Pierce heads, and an unresponsive Robert Parish strapped to a heavy wooden chair in an otherwise empty examination room.
Allen also reported entering one extremely bloody area where it looked as though the Celtics were conducting a number of diabolical basketball experiments, including the creation of a point guard/center hybrid that Allen said was barely alive, had a face that looked like Rajon Rondo's, and, upon seeing Allen, feebly rattled its chains while silently mouthing the words "Help me." Allen also gained access to a computer on which he read about a failed procedure to shrink Kevin Garnett's adrenal gland in order to decrease his production of testosterone and significantly reduce the amount of time he acts like a dick.
"I was about to enter a strange vault-like area when I heard a weird sound, so I ran out of there," said Allen, adding that he thinks what he heard was Doc Rivers and Danny Ainge talking with each other and laughing shrilly. "But from the brief glimpse I got of the next room, I could have sworn I saw more vats of Celtics players that, well, to be honest, looked like me."
"Who am I?" Allen said. "What is this team?"
In related news, the Celtics have offered Ray Allen for trade to every team in the NBA.