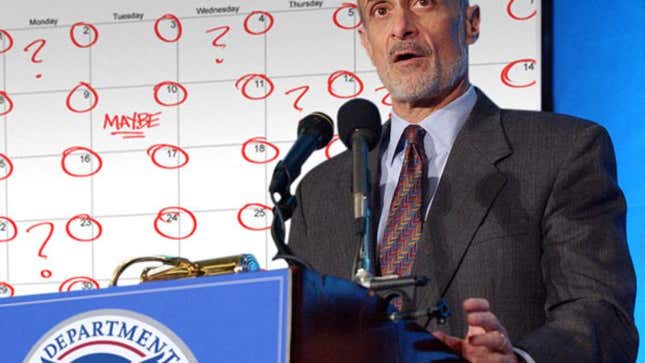 WASHINGTON—In an alarming development with wide-reaching implications for America's safety, Department of Homeland Security head Michael Chertoff and CIA Director Michael Hayden issued a joint report Monday warning that the next 9/11 could in fact occur on a different date.
This Week's Most Viral News: September 29, 2023
The report, based on intelligence gathered by field-agents, found that a future 9/11 might take place on an entirely new month and day, including 4/24, 6/13, or even 10/12. According to the report, the nation could realistically find itself in the midst of a 5/25 scenario, as well as a potential 3/14 situation in the months to come.
8/28, 6/19, and 11/7 were also cited as possible 9/11s.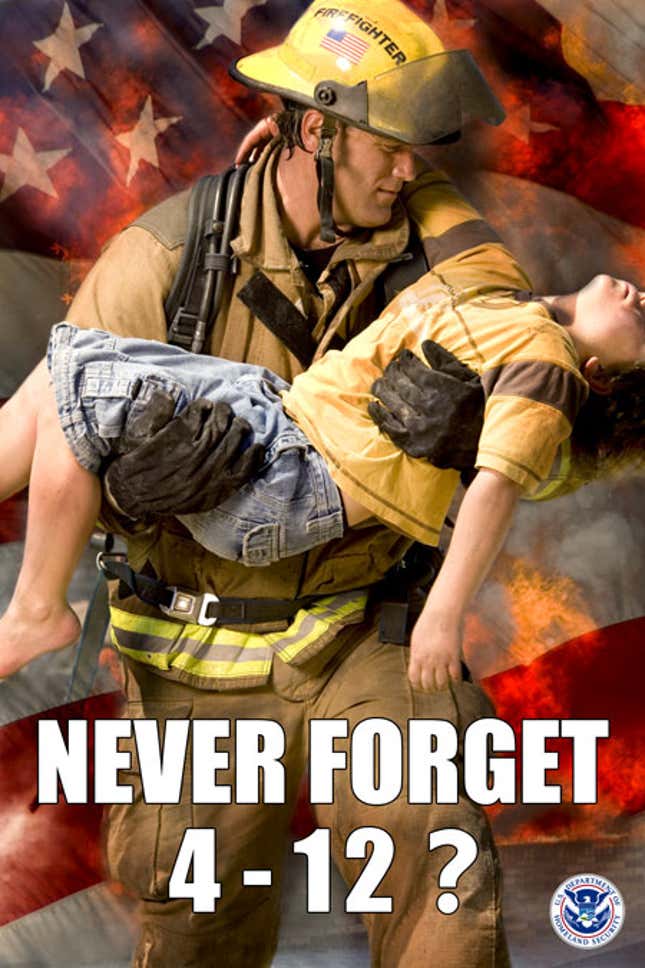 "While 9/11 has historically always fallen on 9/11, we as Americans need to be prepared for a wide range of dates," Chertoff said during a White House press conference. "There's a chance we could all find ourselves living in a post-6/10 world as early as next July. Unless, that is, we're already living in a pre-2/14 world."
"1/1, 1/2, 1/3, 1/4, 1/5," Chertoff continued for nearly 45 minutes, "12/28, 12/29, 12/30, 12/31—these are all plausible and serious threats."
An addendum to the report that includes leap years will be released by the end of March.
Though the DHS has identified more than 7,000 sensitive dates spanning the next 20 years, it did manage to rule out 4/15/04 and 10/38 as future 9/11s. The government report also confirmed that the next 9/11 would more than likely not involve an assault on the World Trade Center's North and South towers as it has in previous attacks.
Furthermore, the 350-page document rejected long-held beliefs that the next 9/11 would commence at 8:46 a.m. on a sunny Tuesday morning. In fact, it warns that a future attack could occur on a cloudy, snowy, or even brisk day, at 8:53 a.m., 10:42 p.m., or any one of the other 1,440 known times.
"We are dealing with agents of terror who are willing to carry out another 9/11 on—if you can imagine it—6/8," Hayden told reporters. "Indeed a day may come when we as a nation have to live in fear of another 6/8, recount where we were when 6/8 happened, and swear never to forget the events of 6/8."
"At some point we might even have to come to terms with the harsh lessons of 6/8," Hayden continued.
Hayden assured citizens, however, that no matter what date the imminent attacks fall on, he has every reason to believe that the next 9/11 will be carried out by militants, radicals, zealots, or extremists, who will stop at nothing, next to nothing, or very little to destroy America.
Hayden also said he was certain that at least one of the world's 6.7 billion human beings will plot the future 5/24 or 3/17 attacks, and that it will most likely target either the nation's subways, seaports, landmarks, stadiums, buildings, structures, or other indoor or outdoor areas where large groups of people tend to gather.
"Instead of calling major terrorist attacks on their soil 'our 9-11,' other nations may soon refer to their own national disasters as 'our 11/28,'" Chertoff said. "Which, incidentally, is also my birthday, though I admit that is neither here nor there."
At the conclusion of the press conference, Chertoff urged Americans not be alarmed by the recent news, and to continue living their lives as they have for the last seven years—with the crippling fear that at any moment they, or someone they love, could die in a fiery inferno.