Whoa, mama. Time out. Will you take a look at what just stepped up to the bar? Those hips. Those legs. Those breasts. That is one seriously fine-looking woman. I can think of a few things I could do with a body like that, no doubt. Yes, sir, now there's a female of my species who'd be more than capable of passing on my genetic material.
Are you looking over here, you flirty little thing? Yeah, I see you scoping me out. I see you with that hungry look. One glance and you could tell I'm the type of guy who'd know how to successfully impregnate you, such that both of our phenotypical variations would be represented in a new generation.
That girl cannot be a day over 21: the peak of a female's fertility. She sure is showing indicators of increased estrogen production. Those round, firm breasts, they sure look ready for nursing. And check out the ass on her. Bam! That girl's waist-to-hip ratio must be right around 0.7, optimal for successful birthing, assuring that my offspring would have a greater chance of surviving and, in turn, procreating themselves.
That little miniskirt she's got on certainly doesn't hurt matters, either. It sure shows off those nice long legs of hers. If she were afflicted with some sort of genetic mutation, there's no way she'd be that tall. And even though the light's not too great in this bar, it looks like she's free of any chromosomatic defections. Not only that, I can tell by the way she walks that she's free of diseases, which, if in turn were transferred to our offspring, would limit their ability to remain healthy and compete for food with other members of the species.
Shit, that woman is hot. I mean, just look at those perfectly symmetrical facial features! I've been around the block enough to know that skeletal symmetry is a reliable indicator of health and fertility. Yeah, you know what I'm talking about. There ain't an irregularly shortened limb on that chick, that's for sure.
G/O Media may get a commission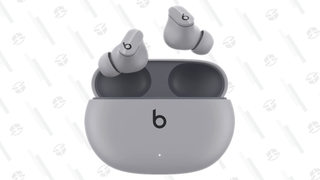 That is a W-O-M-A-N, no doubt about it. No man would have eyebrows with an arch that pronounced. Not only that, her eyes are larger than those of a male, and her nose and jaw are narrower, signaling to me that this is most definitely a woman. And a woman is exactly the kind of homosapien with which I need to mate to assure both extraspecial and interspecial domination.
She's looking at me again. Yeah, she is sizing me up, no doubt. Well, if you're looking for a guy loaded with advantageous genetic traits, you've come to the right place, baby. You're thinking my solid musculature is a reliable indicator that I possess good chromosomatic qualities? You got that right, hon. I am the man to increase your fecundity.
It's time. My adrenaline and testosterone levels are up, and the selected female over there by the bar is showing some serious signs of receptivity. I'm going to walk over there and buy her a drink. Oh, yeah, sugar, that'll show you that I have the resources to assure that our offspring would reach full maturation. Come on, baby, quit fooling around: Let's go back to my place and pass on some genes.