WASHINGTON, DC—The United States was placed on high alert this morning as the Department of Homeland Security revealed credible evidence suggesting that tomorrow afternoon at approximately 3 p.m., 2 p.m. Central, ABC Family Channel will air that one Full House episode where the Tanners meet the Beach Boys.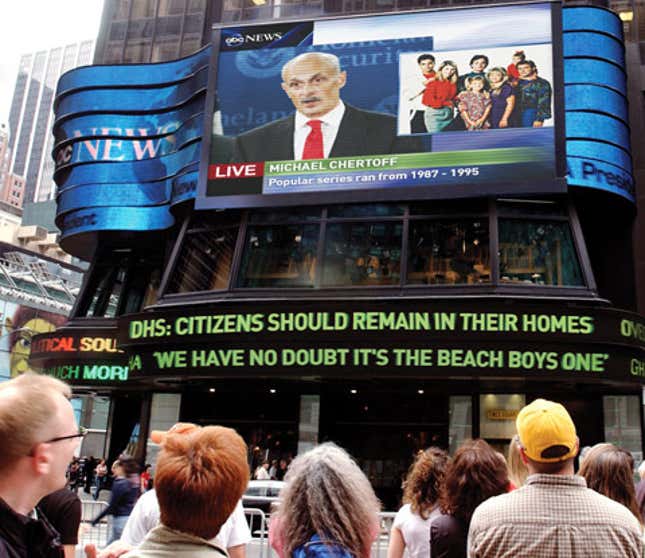 This Week's Most Viral News: September 29, 2023
"We strongly advise all Americans to remain indoors between 3:00 and 3:30 p.m., huddle close together with their loved ones, and sit still and stay completely silent unless it's a commercial," Homeland Security Secretary Michael Chertoff said during a live television address this morning. "In fact, we recommend you be fully prepared by 2:58, so you don't miss the part in the beginning where Danny, Uncle Joey, and the rest of the gang talk like surfers."
Although a general advisory to watch classic Full House episodes is always in effect, government records rate this episode as a 9.1 out of 10, or "Superb." Episodes of this caliber and higher require nationwide warnings.
"Based on Internet chatter pieced together from ABC Family message boards, we can say with relative certainty that it's the one where D.J. wins Beach Boys tickets in the radio contest, but she can only bring one guest, and she picks Uncle Jesse, and Danny gets upset, and then the Beach Boys come over to their house for some reason and start singing 'Kokomo,'" CIA Director Michael Hayden said. "We are unable to reveal any more information at this time, since doing so might ruin all the best parts."
"However, I'm confident the American people know which one we are talking about," Hayden added. "Remember? There's a concert, and the Tanners go onstage and sing? Oh, and the Beach Boys do the 'Beach Boy huddle.' You'll remember once you start watching."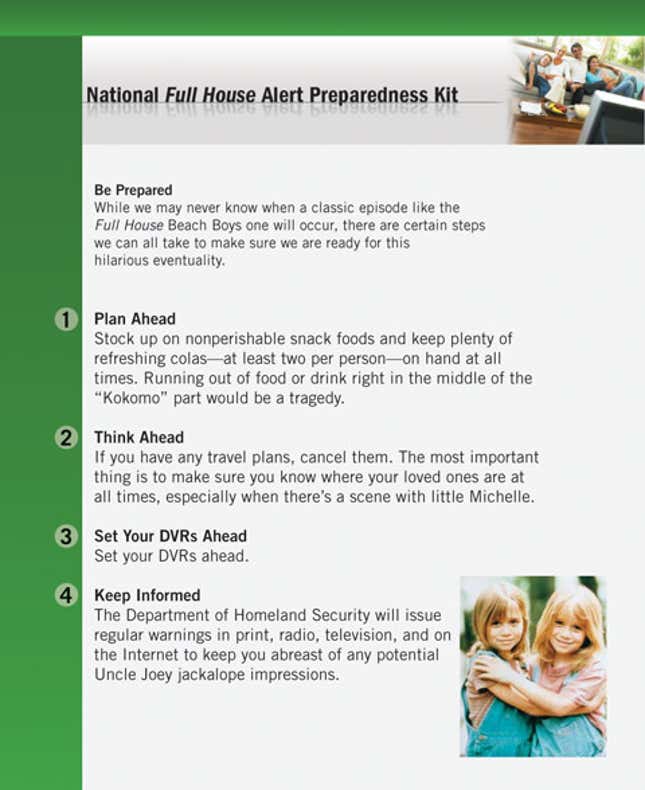 CIA intelligence could not confirm whether or not Kimmy Gibbler makes an appearance during the episode.
"Keep your eyes and ears open," said Chertoff, noting that the threat of laughter is "very real" and that the situation should be taken lightly. "It is up to each and every one of you to be aware of the small but memorable moments, like Joey and Jesse's jingle for Beach Butter Suntan Lotion, or that ridiculous yellow blazer Deej wears to the concert. And only through constant vigilance will you catch Danny's 'Smurfs on Ice' joke."
All citizens have been urged to immediately contact relatives, friends, and neighbors and assure them that little Michelle says something adorable, being absolutely clear exactly which Full House episode featuring the Beach Boys they mean, since the band appeared in two other episodes later in the series. Those who do not have access to cable are advised to seek refuge with someone who does.
"Be warned—this is not the one where the Tanner family goes on vacation to Hawaii and Danny has his 'Clipboard of Fun' and they end up lost because the island they were sailing to turned out to be a potato-chip crumb on the map and then there's Joey and that hula dancer that he keeps seeing and something about Uncle Jesse and Elvis," Chertoff said. "That episode is from the third season, and contrary to popular belief, the Beach Boys do not appear in it."
"We repeat: This is not the Hawaii one," Chertoff added.
The announcement has been met with criticism from citizens who claim the warning has come too late, although the DHS has known about it for months. Many are comparing the situation to the tragic events of 4/13, in which the American people were not notified about the Cheers episode where Cliff goes on Jeopardy! until there were only two minutes left in the show and all the funny parts were over.
Chertoff said the DHS has drawn up a recommended course of action for those who may have to miss the episode in the event of an emergency.
"If you are planning to record the episode using a digital recording device, I have four words of advice for you: 'Save until manually erased,'" Chertoff said. "And for those of you who own the second season on DVD, well, lucky you. Go check out Disc 4, the Howie episode, where Michelle says 'Howie no go.' Priceless."
The DHS discontinued the practice of videotaping classic TV episodes and loaning them out to citizens when, in 2006, they accidentally recorded over the latest al-Qaeda tape with the Home Improvement Christmas special where Mark thinks Wilson is Santa.