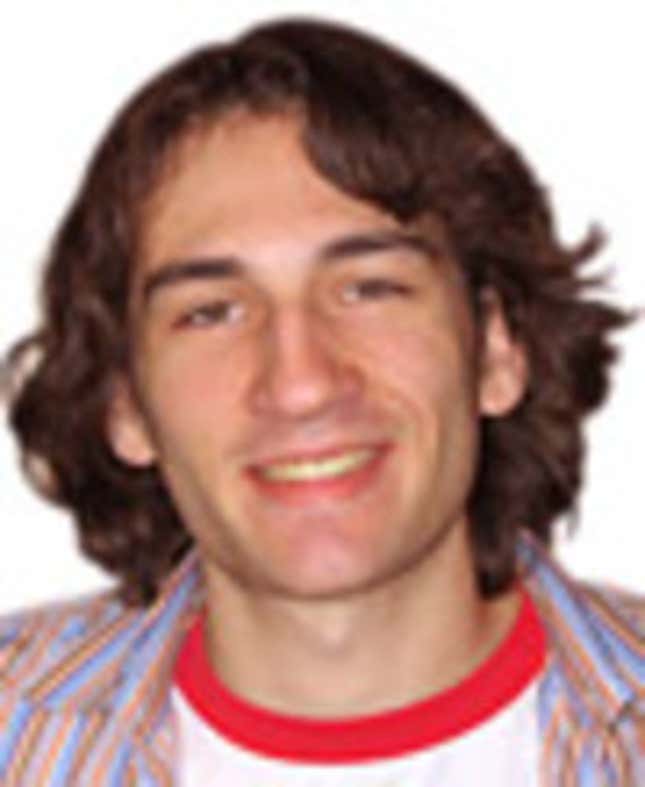 I'm really glad I decided to go to my current school. I can't think of an American college with such balanced and complementary diversity. While any old school can boast of their Indian dance groups, few can say they have the perfect number of them. Well, this one can. Yeah, you could say I have it good when it comes to Indian dance groups. Or, more accurately, I have exactly the right amount when it comes to Indian dance groups.
Study Finds LSD Highly Effective At Ruining Nephew's Baptism
Three.
I checked out a few other schools before coming here, and the choice wasn't too difficult. Some of these schools have upwards of seven Indian dance groups. That undercuts the cultural importance of the dancing with petty competitiveness, and dilutes the experience with oversaturation. Meanwhile, a bunch of the other schools have only one or two, which is equally unacceptable. Try coming away with any informed appreciation of Indian dancing with only two Indian dance groups on campus. It's completely ridiculous—insulting, even.
No, three is dead-on.
You got your small Indian dance group for the more intimate affairs, your huge, over-the-top Indian dance group for big-time blowouts, and your medium-size Indian dance group to strike the perfect balance.
For instance, if I'm looking to take a break from my economics studies with a little Bharatanatyam or Odissi, I can always check out Eternal Bhakti when they perform at the commons. When it comes to bringing to life the ancient theories put forward in the Natya Shastra Of Bharata, I believe I speak for the entire student body when I say that there's no room for improvement in that department.
Of course Eternal Bhatki's not for everyone. But at this school, it doesn't need to be. We also have Saraswati, for those who like their Manipuri slow and relaxing. No pressure here. Just Indian dancing with no frills.
See, many schools would assume that two groups as good as these would easily satisfy the Southeast-Asian cultural needs of the whole school. And they would be dead wrong. Because these two Indian dance groups fail to address India's continued modernization, and the growing influence of Western culture. Luckily, the third and final Indian dance group fills that gaping void: the resident hip-hop Bhangra dance group, the Desi All-Stars. These guys really know how to rock it out with the crazy beats! They just started using some elements of reggaeton in their repertoire, which I didn't totally agree with at first, but it's starting to grow on me.
Whose Indian-dance-group needs aren't served by this? No one's.
The truth is, this school has a plethora of rich, correctly proportioned cultural experiences to offer. Here, students can take up to, but no more than, five semesters of African drumming, and the kiln in the Japanese ceramics studio is big enough to accommodate all the serious potters without intimidating the more timid students. We have 11 a cappella groups (just right), six Shakespeare societies, only a handful of Tuva throat-singing organizations, and even one Save Darfur club. Ideal.
Unfortunately, though, I've caught wind of plans to start up a fourth Indian dance group on campus. I really hope this is just a rumor. That might fly at Oberlin or Swarthmore, but I was led to believe we took pride in the precision of our Indian-dance-group balance.
If you weren't good enough to make it on one of the three established Indian dance groups, then maybe you shouldn't be so involved in Indian dance. Don't spoil the harmony for your own ego! This college has three Indian dance groups. Case closed.
Some people, like my roommate Kurt, are Indian dance relativists. "The more the merrier," Kurt says. Well, that's just a rhetorical cop-out. It's clear he's never given the issue any serious thought. We need to keep it at three.
It's about integrity. I don't know what I'll do if this school just turns out to be one of those liberal, wishy-washy places that feigns interest in cultural diversity and throws around a lot of open-minded-sounding bullshit to appear cultivated and make itself feel better about its inherent whiteness and insecurity. I really don't know what I would do.