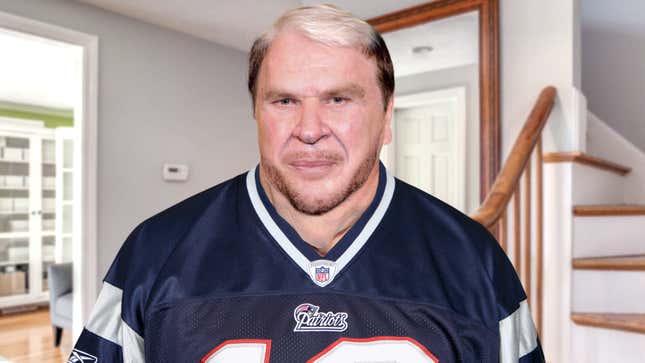 Even if you consider yourself a skeptic, it's hard not to get a little freaked out when you hear about the legend surrounding the Madden NFL series. Fans call it "The Madden Curse," the mysterious trend where athletes who appear on the cover of Madden NFL slowly transform into John Madden. Coincidence or not? Let's take a look at the history of this fascinating trend to find out more.
Ron DeSantis Announces He Will Live As Slave For One Year To Prove It Not Bad
It all started back in 1999 when for the first time in the game's 11-year history, designers chose to feature an athlete on the front of the game's box rather than famed NFL coach and commentator John Madden. This first athlete was running back Garrison Heart, who in 1998 led the San Francisco 49ers to victory in the first game of their season, famously completing one of the longest runs in NFL history. But the next year, after gracing the cover of Madden NFL 99, Hearst's skin began to pale to a shade of cream that could only belong to an Irishman of ruddy complexion. Though only 28 years old, he developed prominent laugh lines and sagging cheeks and put on hundreds of pounds of fat seemingly overnight. And instead of showing up to the games in his uniforms, he began wearing ties and short-sleeved button-ups, pacing the sidelines with a clipboard, and demanding that everyone calls him "Coach." 
At first, most fans tried to write it off as a one-time event. 
"Nobody thought it was strange at the time," said NFL commentator Kyle Collins, who noted that both Barry Sanders and Dorsey Levens began growing long, wispy blonde locks they styled into a side part shortly after landing the shared Madden NFL 2000 cover the following year. "But then it fell into a pattern. Eddie George, Dante Culpepper, Marshall Faulk, Michael Vick. After appearing on the Madden cover, every single one of those guys started bringing out the telestrator during games, became obsessed with butt sweat, and got really into telling stories about coaching the Oakland Raiders in the '70s."
"But it only got really strange when they all started demanding someone make them a Turducken," he went on to explain. 
Of course, the curse didn't affect everybody. Detroit Lions wide receiver Calvin Johnson landed the Madden NFL 25 cover in 2013 and has since shown no signs of transforming into a 350-pound octogenarian. 
"And then, boom, the following year, Adrian Peterson gets photographed for the cover and subsequently starts expanding," said Collins. "It's the same with everybody. You don't want that cover. You're on it once, and before you know it, you're housing three to four meatball subs a day with a headset crammed over your face. Sometimes it happens so quickly they can barely get the photo off before that transformation happens." 
"There's a reason Tom Brady won't step on a plane anymore—and it's not just all the weight he's gained," he added. 
Gamers and football fans will just have to wait and see if Kansas City Chiefs quarterback Patrick Mahomes can avoid the descent into becoming a pasty, boisterous football announcer when Madden NFL 20 debuts this August. Even if it's all just a coincidence, you have to admit "The Madden Curse" is pretty freaky!