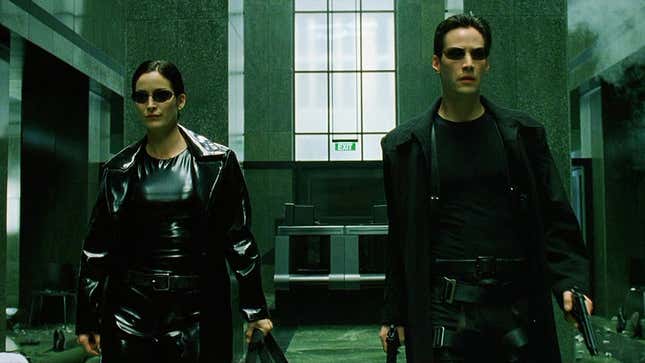 March 31, 1999 saw the release of The Matrix, the sci-fi action film directed by the Wachowskis that went on to massive financial and critical success, spawning sequels and a host of other related media. The Onion looks back at big moments in the franchise on its 20-year anniversary.
Jimmy Carter Becomes World's Heaviest Man At 850 Pounds
---
1960:
Octodecuplets eventually cast as Agent Smith born.

---
1997:
Advances in CGI technology enable any piece of clothing to be rendered onscreen as leather.
---
1998:
Will Smith declines role of Neo to pursue other career mistakes.
---
1999:
Film's success sparks summer craze for sunglasses.
---
2000:
Batch of "Matrix babies" born nine months after film's release.
---
2003:
Release of The Matrix Reloaded results in dozens of teens going to hospital after attempting bullet-time dodge of a BB gun.
---
2004:
Neil and Adrian Rayment worry they're becoming typecast as albino twins who can self-heal gunshot wounds.
---
2009:
Warner Brothers issues 10th-anniversary edition featuring a multi-disc set that includes zero footage from the sequels.
---
2012:
The Nebuchadnezzar sells at auction for $1.6 million.
---
2019:
Men's rights activists refer to being "red-pilled" as becoming aware of the truth that they are absolutely full of shit.