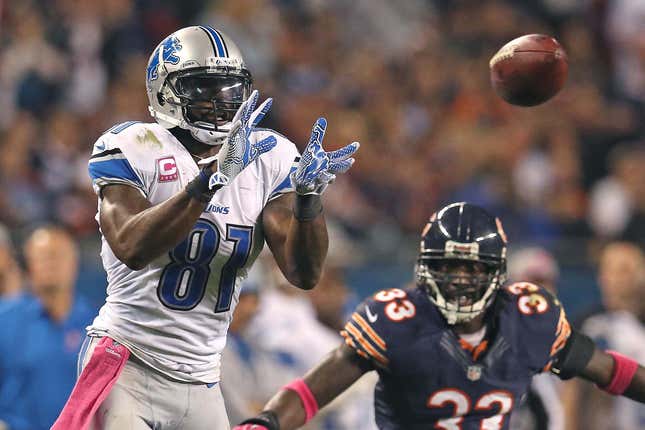 With football training camps underway, Onion Sports is preparing fans for the upcoming 2013 NFL season by ranking players at every position. Here's a helpful guide to the league's best wide receivers.
Study Finds LSD Highly Effective At Ruining Nephew's Baptism
10. Dez Bryant: Say what you will about his off-the-field problems, but Dez Bryant has serious psychological issues stemming from his childhood that need to be addressed in professional counseling
9. Randall Cobb: As the Packers' new number-one receiver, Cobb will have approximately 0.4 seconds after every snap to get open before Aaron Rodgers is sacked
8. Anquan Boldin: Still the league's best possession receiver, but the new 49ers wideout may struggle getting used to receiving well-thrown passes directly in his stride
7. Brandon Marshall: With his impressive physicality and soft hands, expect Marshall to catch a good portion of Jay Cutler's criticism this season
6. Wes Welker: All he has to do is connect with Peyton Manning for a touchdown against the Patriots in Foxborough so we can see Tom Brady's reaction. That's it. That's all we care about.
5. A.J. Green: With his expert route-running and ability to create separation wherever he goes, expect Green to be in the perfect position to grasp helplessly for dozens of Andy Dalton's overthrown passes
4. Julio Jones: Lived in the weight room this summer, so he's extra motivated to earn performance bonuses to finally be able to buy or rent a house
3. Andre Johnson: Johnson is once again expected to have an outstanding season that ultimately means nothing
2. Larry Fitzgerald: Following his underwhelming 2012 season, Fitzgerald is hoping to come back in a big way thanks to the Cardinals' addition of … Carson Palmer? Oh, man, he's fucked
1. Calvin Johnson: With his size, speed, and tremendous athleticism, Lions fans can expect Johnson to carry their team tantalizingly close to the playoffs this year