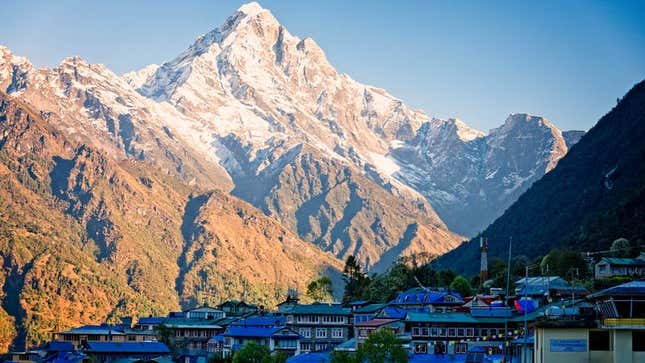 On Sunday night, all eyes will be on Hollywood, as the silver screen's biggest stars gather for a celebration of the year's greatest moments in cinema. The Academy Awards, now in its 89th year, is a grand and glamorous tribute to the touching performances and technical artistry that, over the past 12 months, made us laugh, cry, and feel closer together. However, given all the joy and entertainment that the film industry has provided to the viewing public, it is the firm belief of this newspaper that these accomplished thespians, screenwriters, directors, and producers deserve far more than just the three and a half hours of recognition they will receive during tonight's ceremony.
This Week's Most Viral News: September 29, 2023
Which is why The Onion is extending a formal invitation to all those in attendance at this evening's Oscars to join us at our official Academy Awards after-party in the village of Sakteng, Bhutan.
While there will be no shortage of glitzy soirees in the Los Angeles area following the conclusion of the festivities at the Dolby Theatre, none of them can match the atmosphere and monastic solitude that The Onion's post-show extravaganza will provide. We would be honored to host the greatest artistic minds of the movie industry for an evening of silent prayer, butter tea, archery, and A-list company in the high-elevation yak pastures of the Eastern Himalayas. The details are as follows:
The Onion's Oscars After-Party
Sunday, February 26, 2017
9 P.M. PST / 11 A.M. BTT
Sakteng, Bhutan
Traditional dress and supplemental oxygen will be provided.
As soon as the night's final awards are handed out and the televised broadcast comes to a close, you will head to LAX, where our plane will be waiting to take you on the 16-hour flight to Paro International Airport outside of Thimphu. After a three-hour single-engine plane ride to Yongphulla, you and your fellow stars and starlets will transfer to the waiting four-by-four vehicles for the one-hour drive to Trashigang and the ensuing 90-minute drive to Phongmey village, before beginning the first leg of a two-day sherpa-guided trek to our party tent. After a quick 24-hour altitude acclimation at the base camp, you will simply make your way over the Nachungla Pass at 13,625 feet before beginning your five-hour descent into the Sakteng valley, where you and the rest of Hollywood's luminaries will change out of your tuxedos and gowns and into traditional yak-hair robes and five-spouted shamo hats, which will be freshly pressed and waiting.
The party will run from 9 p.m. until midnight.
Guests will be welcomed upon arrival into Sakteng by local Buddhist monks playing a chorus of dungchen horns as servers offer a traditional spread of hot distilled rice-maize liquor with scrambled eggs. But the splendors of the event do not stop there: Guests will be treated to ceremonial ablutions, followed by a mask dance and an hour of chanted blessings to mountain goddess Jomo Kuengkhar.
All attendees are requested to bring an insulated parka, a waterproof hat and gloves, hiking boots, thermal undergarments, a sturdy aluminum-framed backpack, eight liters of water per person, a headlamp, an ice ax, and a desire to carouse the night away with the rest of the big screen's biggest names.
In addition to experiencing the excitement and contemplative desolation of The Onion's after-party, those who attend will also receive a complimentary gift bag, which will include a five-pound sack of red rice, a bolt of handwoven fabric, 10 feet of rope, and an 8,500-ngultrum gift certificate to the dagger shop in Samdrup Jongkhar District.
Return transportation from the party will not be provided.
The Onion has already received confirmations of attendance from dozens of notable guests, including Lyonpo Sonam Tobgye, lama Karma Namgyel Rinpoche, and Reese Witherspoon. Those Oscars attendees who wish to be placed on the guest list need only RSVP to us with the following information:
Name:
Oscar Nominations (if any):
Clothing Size:
Shoe Size:
Number Of People In Your Hut:
Any Yak Dairy Allergies:
Dyed wools have already been hung throughout the village and a mouthwatering menu of tripe and buckwheat is being prepared at this very moment in anticipation of an amazing night that no Oscar attendee—whether winner or simply nominee—will ever forget. So please, join us among the semi-nomadic Brokpa people and their itinerant livestock herds for a party like no other.
Best of luck, Academy Award nominees, and see you soon in the Land of the Thunder Dragon for a night of merriment and appreciation only The Onion can provide. Because, as they say in Bhutan, "Mi chi gawi soenam Taa giya ba methey": To give happiness to another person gives such a great merit; it cannot even be carried by a horse.