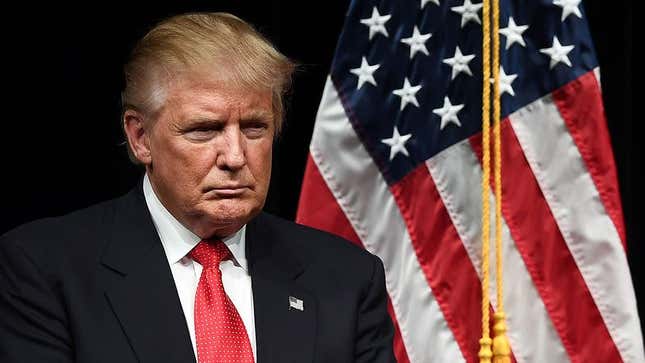 Our country stands at a pivotal inflection point, just five weeks out from a presidential election with wide-reaching implications. With the two leading candidates providing starkly different visions for this country, it is incumbent upon the American people to evaluate the nominees' stances on the issues and appraise their characters with care and precision. The American people must do so fairly and impartially, without any undue influence or distraction.
NYPD Arrests Trump After Routine Stop-And-Frisk Turns Up Unlicensed Handgun, 400 Mg Of Ketamine
Which is why, when a cowardly and insidious anonymous source provided The Onion with a complete collection of Donald Trump's tax returns yesterday morning, our editorial board moved promptly to destroy every last page of these financial records.
Tax returns are private documents, and it is The Onion's belief that the decision of whether to make them available for public scrutiny should be left solely to the person who filed them. In shredding and then subsequently incinerating the thousands of pages of sensitive and revealing financial information about Mr. Trump, The Onion made the only responsible choice. We believe any journalist, news organization, or advocacy group that would even consider behaving differently in these circumstances—and indeed, any reader who even yet wishes to look upon such private information—should be thoroughly appalled at themselves and their crass, voyeuristic impulses.
Has our democracy fallen so far that even the most confidential records of business write-offs, shell companies, and overseas financial dealings can now be considered a legitimate subject of public interest?
Let us reiterate: Americans have absolutely no right to see these documents or be made aware of their contents, and that is why we eradicated these records and disposed of what remained of them at a location we refuse to disclose.
We take this situation very seriously. Prior to destroying the returns, we consulted with numerous tax professionals who verified the authenticity of the roughly 45,000 pages of documents encompassing Donald Trump's complete state and federal tax returns for every year in which the candidate ever filed, as well as corporate returns for every Trump-owned business. In keeping with our commitment to the records' privacy, all of these tax experts were made to sign strict non-disclosure agreements to prevent them from sharing any information gleaned from the documents. Let us assure you that any breach of said agreements will be met with swift and comprehensive legal action and will bring to bear the full tools of journalism at The Onion's disposal to ensure these experts' reputations, both personal and professional, are tarnished beyond the point of any repair.
You may have numerous questions about the tax returns: for instance, whether these documents contained information about Mr. Trump's income, his businesses' profits or losses, or any tax maneuvers he may have exercised throughout his lifetime. The answer on all accounts is yes. You may ask whether the filings revealed Mr. Trump's net worth as it progressed over the course of decades. Again, the answer is yes. You may ask whether the documents revealed how much or how little he paid to the Internal Revenue Service in any or all of the 52 years for which we obtained records. The answer is yes once more. You may ask whether you may see this information for yourself. There, the answer is a decisive and impassioned no.
Has our democracy fallen so far that even the most confidential records of business write-offs, shell companies, and overseas financial dealings can now be considered a legitimate subject of public interest? Lesser media outlets may think so, but The Onion will continue to stand by our belief that the sensitive financial disclosures of the wealthy and powerful should be protected from the unauthorized scrutiny of the nation's voters.
In addition to the complete and irrevocable destruction of these documents, The Onion has committed itself to taking the following steps to ensure the continued confidentiality of Mr. Trump's returns:
Restating our newspaper's expressed vow to destroy any private documents we ever receive from craven anonymous leakers.

Beginning immediate legal proceedings against any news outlets unscrupulous enough to publish any such leaked documents.

Employing our confidential sources within the U.S. government to locate and destroy any additional physical copies of Mr. Trump's returns so that no person may look upon them unrightfully.

Directing The Onion's extensive cyberwarfare division to erase all electronic documentation of the returns from government and private hard drives.

Putting the full investigatory resources of The Onion into identifying and prosecuting the criminal individual or individuals who shared the documents with us and offering a $500,000 reward for information leading to their arrest and conviction.
We believe these steps are necessary to protect the privacy of our nation's affluent and privileged few, and to discourage less principled "journalists" from infringing on that privacy by sharing unlawfully obtained financial documents. Rest assured, we at The Onion will see that any attempt to violate this norm does not go unpunished.
America must vote next month on the candidates and what they stand for, not on their personal and business dealings, which, as long as The Onion has any say in the matter, will always remain private.