Since leaking classified details of mass surveillance operations carried out by the U.S. government, former NSA contractor Edward Snowden finds himself in particularly perilous circumstances. Of the 20 countries with which Mr. Snowden has applied for asylum, only three—Venezuela, Nicaragua, and Bolivia—have accepted, and none have the political leverage or global influence to fulfill their promises of his protection. Meanwhile, as U.S. authorities attempt to extradite Snowden for federal prosecution, his passport has been cancelled, American allies have threatened to deny airspace to any flight upon which he is traveling, and his options are growing thinner by the day.
The ground is quickly shrinking below your feet, Mr. Snowden, and so The Onion would like to formally extend to you the following offer: a swift, clean, and completely painless death here in the United States under our care.
Mr. Snowden, we personally guarantee that you will not feel a thing and that it will all be over in a matter of seconds—and that is something only an organization with the far-reaching resources and power of The Onion can guarantee in no uncertain terms. The Onion can also assure you that your demise will not be prolonged in any way and will be carried out by trained professionals of the highest order. We want to do this right.
Given your current situation—trapped in Moscow with virtually nowhere to go and time running out—The Onion is providing you with the only truly legitimate opportunity to enjoy an assured death that is both expeditious and administered with minimal, if any, physical discomfort.
To further allay any fears you may have, the following is The Onion's detailed plan of action for your safe passage from Moscow to the United States:
You will be escorted by armed guards to The Onion's private jet in North Terminal A of Sheremetyevo Airport.
The Onion has already arranged with U.S. customs ahead of time to ensure that your entrance into the country is finalized before you even step foot on American soil.
You will arrive in the United States and be taken to a remote branch of The Onion's media empire at an undisclosed location, where no authorities or competing press will have any access to you.
A lethal dose (approximately 5 grams) of sodium thiopental will be injected directly into your bloodstream through either your left or right arm (your choice), which will render you unconscious within 10 seconds and then swiftly shut down all of your major organs, killing you in a matter of minutes.
Your head and limbs will be removed from your torso, and your corpse will be treated with formaldehyde to prevent any flesh decomposition. Your entrails will also be removed.
Your remains will be buried in a cemetery in your hometown of Elizabeth City, North Carolina. All burial expenses will be paid for by The Onion.
G/O Media may get a commission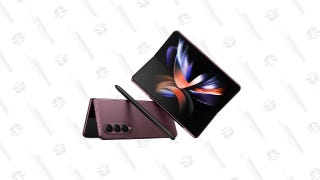 Save Up to $300
Galaxy Z Fold4
Now, we ask you, Mr. Snowden, have the governments of Venezuela, Nicaragua, or Bolivia—all of whom claim to have your best interests at heart—offered step-by-step arrangements for your death that are even remotely comparable to those of The Onion? And as you sit idly in a transit zone in Sheremetyevo Airport, perhaps the most important question is: Who can you truly trust when it comes to ensuring beyond any doubt that you will be promptly killed immediately upon your departure from Russia?
Deep down, Mr. Snowden, you know there is only one answer to that question.
The Onion urges you to make your decision within the next 48 hours. Any reticence on your part could compromise any guarantees of an immediate and painless death under our watch.
We want to help you, Mr. Snowden. Make your choice wisely. The world is waiting.