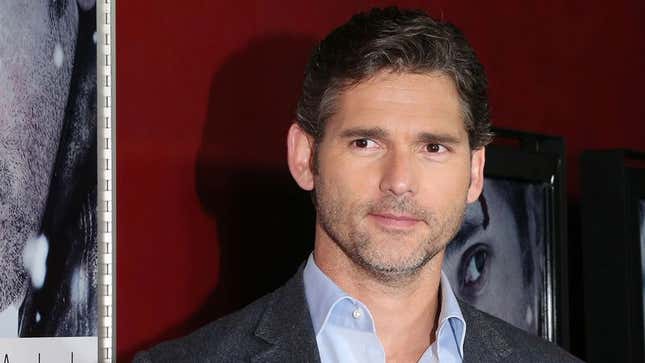 This week, the United States Supreme Court heard arguments in a pair of cases whose outcomes will have a profound impact on homosexual rights in this country for years to come. These momentous judicial proceedings have inspired a flurry of conversation among the American people, all of whom—whatever their stance—have contributed with candor and sincerity to that process of open dialogue that is so fundamental to the democratic principles on which our society rests.
The Onion Film Standard: John Wick: Chapter 4
However, while the debate rages on—in our homes, in our places of business, and even within the pages of The Onion itself—one voice has remained continually silent: that of film and television actor Eric Bana, who for years now has refused to make his views known in this most crucial of discussions. Despite the range of voices calling on him to do so, Mr. Bana—steadfastly and maddeningly—has as yet refused to air his beliefs on same-sex marriage, opting instead to remain out of sight while the rest of the world tries in vain to coax some kind of response, any kind of response, out of him.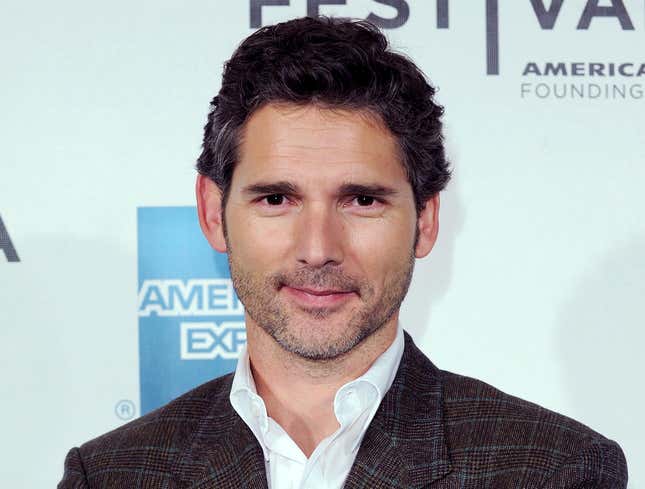 Such reticence, while perhaps convenient for Mr. Bana, cannot be allowed to continue.
And so, as it has so many times before, The Onion today says to you, Eric Bana: The time has come to at last end your protracted silence on the issue of gay marriage. Make your voice heard, and do so now. Or are you too big of a coward?
This is the 23rd strongly worded editorial The Onion has addressed to Eric Bana in the last three years, and yet he has ignored us time and again. This isn't one of your movies, Mr. Bana. You cannot simply call "cut" and retreat into the cushy confines of your trailer until it's time for you to smile for the cameras again. No, sir. Perhaps you believe that, as a celebrity, you have no obligation to participate in this conversation. Perhaps you have been too busy with your work on the upcoming film By Virtue Fall to take the meager amount of time necessary to air your opinions on gay marriage and finally put the matter to rest. Or perhaps you are merely spineless. Whatever the excuse, it is insufficient.
You resemble nothing so much as a monster, Mr. Bana.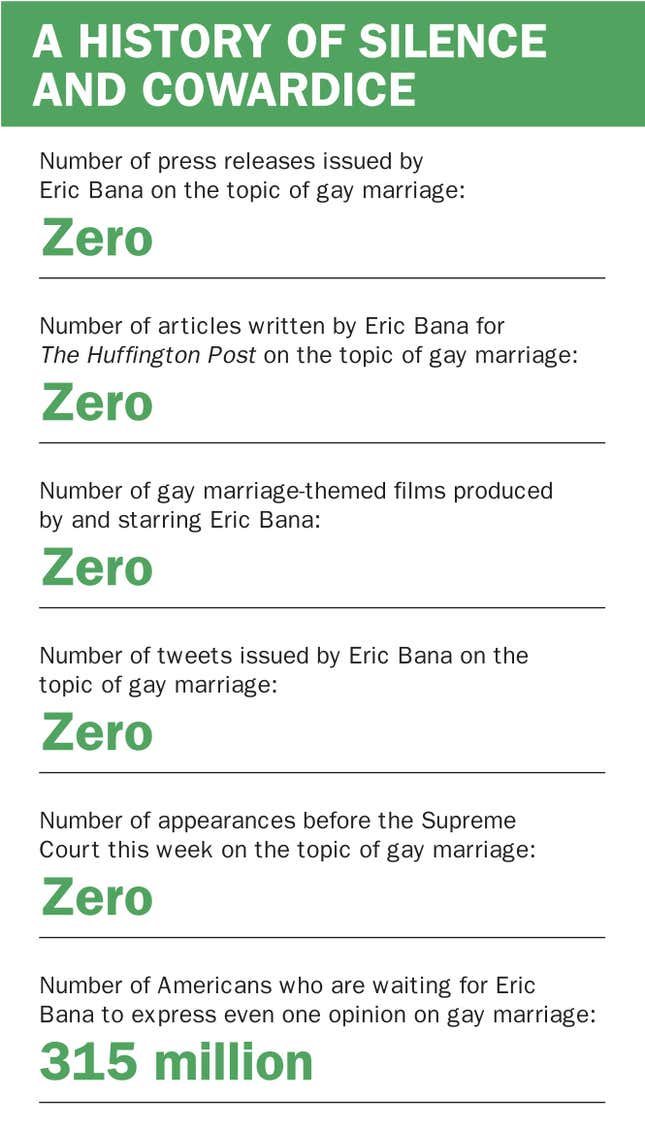 It is possible that Mr. Bana believes this contentious debate will somehow resolve itself without his input. We are here to assure him that it will not. In fact, as he is doubtlessly aware, millions of Americans are right now persistently monitoring his Twitter feed, deluging him with letters and emails, and stopping the Munich star in the street asking—nay, demanding—that he choose a side. Right now, Mr. Bana, tell us: Should same-sex marriages be recognized by the federal government? Should homosexual partners receive the same taxation benefits conferred on straight couples? These questions—and many others affecting the LGBT community and society as a whole—are of pressing importance, and they demand your immediate and complete answer. It is an issue that will not blow over simply because you wish it to.
And once Mr. Bana at last breaks his silence on the topic of gay marriage, there are other matters that demand his attention. Is affirmative action an effective and fair means of stemming institutional discrimination? Should Bradley Manning and others who make classified information public be subject to accusations of treason? Does the America Invents Act, with its controversial transition to a first-to-file patenting system, weaken the intellectual property rights of smaller inventors? On these and countless other matters, Eric Bana must express his views, and express them without equivocation.
It is said that the measure of a man lies in the courage to stand by his convictions, whatever they may be. So, we ask you, Mr. Bana, what are your convictions? Do you have the strength to reveal them? Or would you prefer to remain cowering in the shadows while the rest of us continue to marvel at your unbelievable timidity? Rest assured that should you continue on this course of inaction, our contempt will be the least of your worries. Mark our words, we will drag you, kicking and screaming, into the light. You cannot hide from us.
The time for silence is over. The time for action is now. The Onion, and the whole world, is waiting, Eric Bana. It's your move now. You fuck.