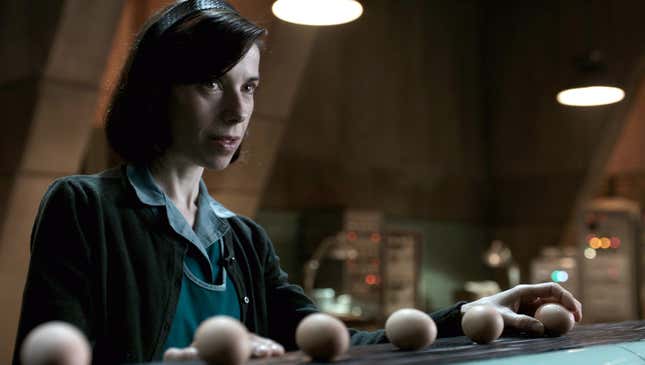 The 90th Academy Awards have continued the trend of offering a more diverse slate of nominees, while organizers will seek to avoid a debacle like last year, when the Best Picture trophy was initially awarded to La La Land instead of Moonlight. Here are The Onion's selections for this year's winners.
---
Get Out (Best Original Screenplay): This socially conscious thriller has been widely praised for sparking a national discussion about hypnotism.

---
Sally Hawkins (Best Actress): A lead female character who never says a word is sure to appeal to many older Oscar voters.

---
Star Wars: The Last Jedi (Best Sound Mixing): Critics agree that beeping and swooshing noises have never sounded crisper.

---
Call Me By Your Name (Best Adapted Screenplay): Of all the disgraceful bottom-feeders who took another's work and passed it off as their own, James Ivory did the least shameful job.

---
Gary Oldman (Best Actor): Let's see if Gary can pull this one out of his hat before those abuse allegations catch up to him.

---
Coco (Best Animated Feature): Easily crushing the competition, Coco benefits from a tremendous soundtrack, great performances, and Pixar's inability to lose in this category.

---
Richard Jenkins (Best Supporting Actor): The character actor known for performances in movies like Burn After Reading and Cabin In The Woods showed off his dramatic range this year by playing a character who isn't brutally murdered.

---
Kong: Skull Island (Visual Effects): The visual effects team worked tirelessly to make the landscapes and actors look tiny compared to the regular-sized gorilla playing Kong.

---
I Love You, Daddy (Best Picture): With a record 15 nominations, including Best Director, this magnum opus is the film to beat this year.