1.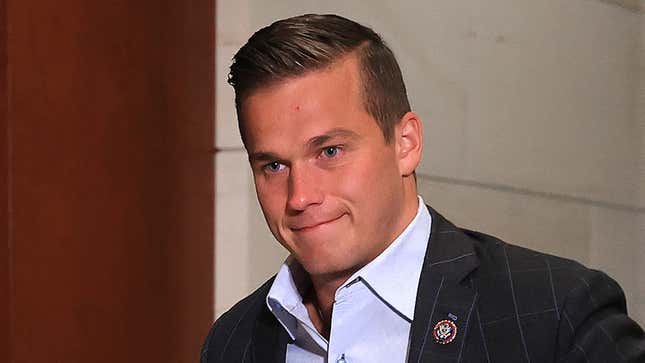 The Onion: Are you going to honestly answer any question we ask in this interview?
Rep. Madison Cawthorn (R-NC): Maybe.
2.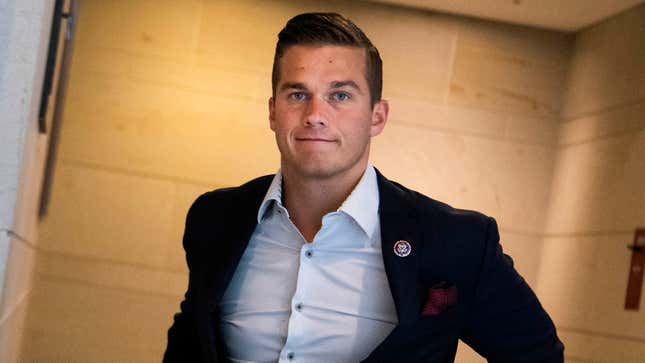 The Onion: Why are you the way you are?
Cawthorn: Well, you see, I was in an accident at 18 that left me paralyzed from the waist down, but I didn't let that stop me from being the conniving, deceptive piece of shit that I am today.
3.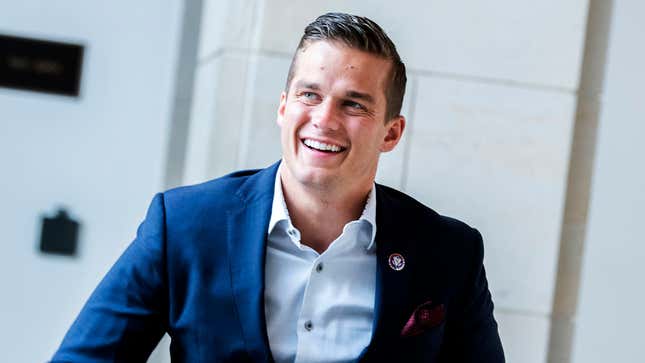 The Onion: Do you see yourself as an inspiration to other people with disabilities?
Cawthorn: Nah, fuck 'em.
4.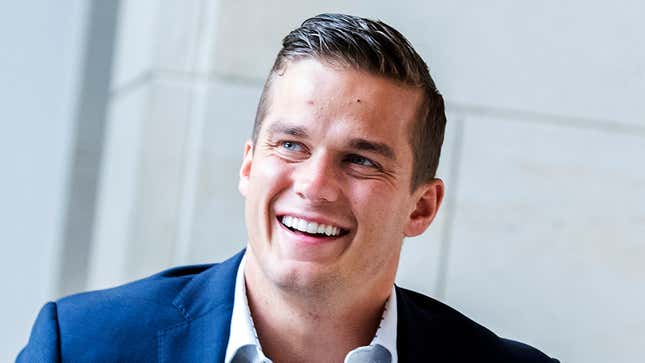 The Onion: What is your favorite song to get you hyped up for the day?
Cawthorn: I listen to the sounds of dogs being sucked into standing lawn mowers.
5.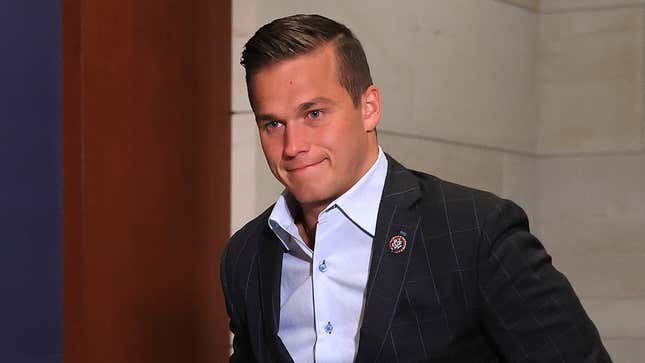 The Onion: Be honest. How many guns do you have on you right now?
Cawthorn: Let's see. There's three in my wheelchair, one in the back of my pants, two taped to the bottom of your chair, one that I hold to my head at all times as a threat, and one [gun shooting] oh fuck.
6.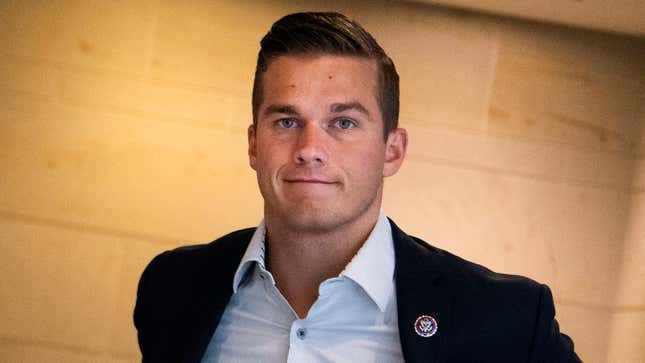 The Onion: How would you characterize your religious views?
Cawthorn: Pretty much your run-of-the-mill pathological interpretation of the Bible.
7.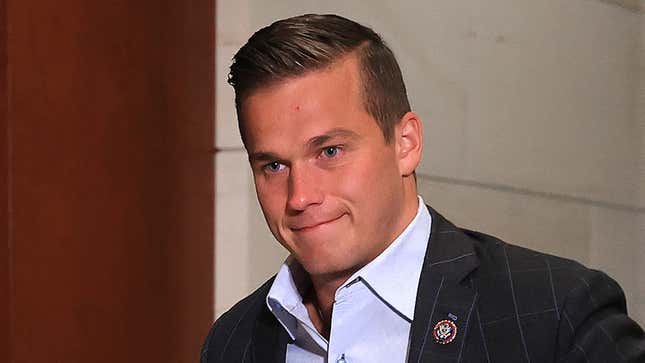 The Onion: Do you feel that you're qualified to be a member of Congress?
Cawthorn: Wow, no one's ever asked me that before. But when I think about it, I can confidently and unequivocally say absolutely not.
8.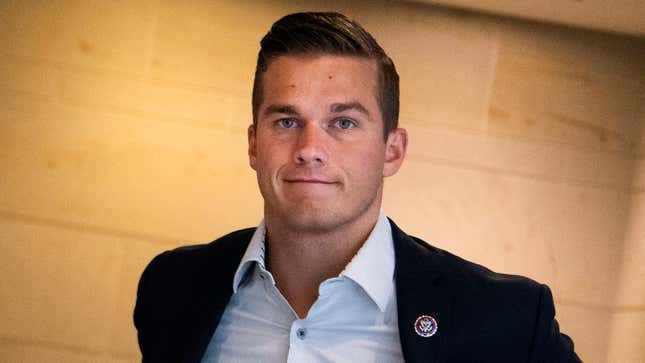 The Onion: What's your biggest achievement in Congress?
Cawthorn: Probably getting to work with my idols Steny Hoyer and Jim Clyburn on the House Young, Dumb, and Full of Cum Committee.
9.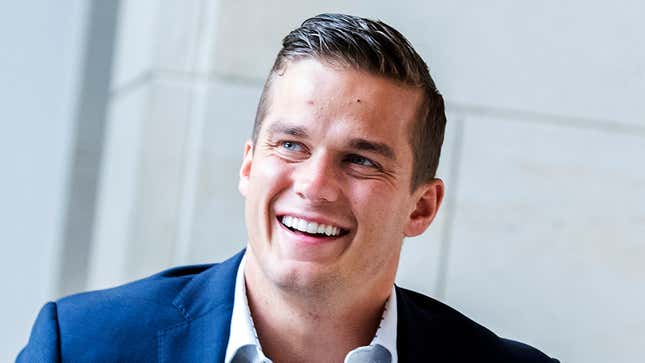 The Onion: Which founding father do you most admire?
Cawthorn: You know, this might surprise a lot of people, but I'm a big fan of Dale. Dale was tight.
10.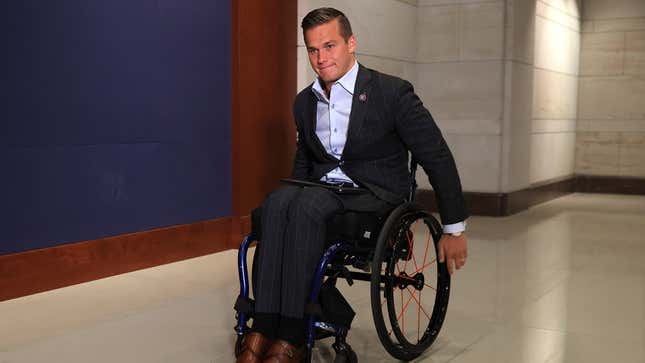 The Onion: Why were you rejected from the United States Naval Academy?
Cawthorn: I forgot the word for "boat" during my interview and repeatedly referred to them as water-trucks.
11.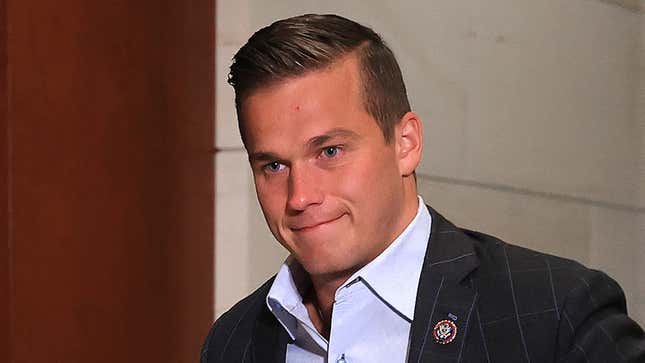 The Onion: Are you bothered that the media is focusing so much on leaks and not your history of lying and sexual misconduct allegations?
Cawthorn: Yeah. I worked hard to be a piece of shit, and that's barely getting out there.
12.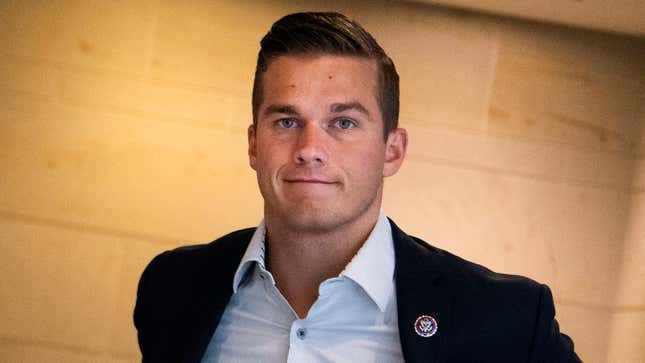 The Onion: Why are your pants around your ankles right now?
Cawthorn: I'm not ashamed of who I am.
13.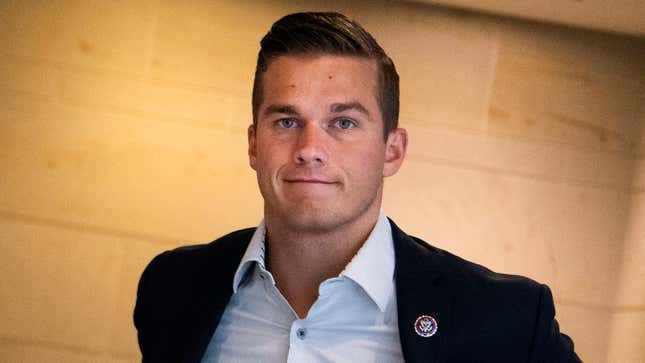 The Onion: Can I ask you why you're wearing nothing but a doily over your crotch?
Cawthorn: No one even notices stuff like that until the liberal media makes a big deal about it.
14.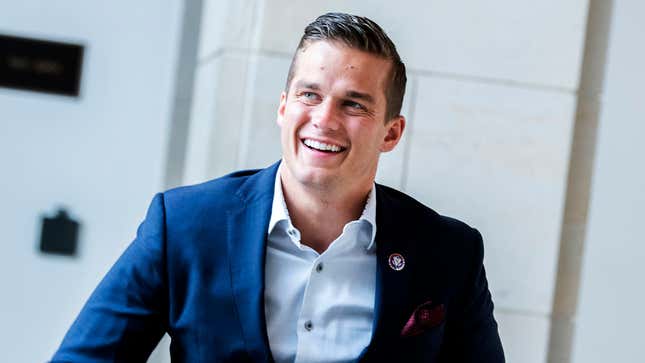 The Onion: Where do you get your news from?

Cawthorn: I wait for Matt Gaetz to use the restroom, then I place my ear against a cup pressed to the stall door. He always yells, "Who goes there?" and I remain completely silent. Then he looks under the stall and sees me, and asks me if I saw the weirdo who was listening to him use the restroom. I say, "Yeah, he went that-a-way!" and point to another stall. Then he runs into that stall, and I place my ear against a cup pressed to that door, and the news cycle begins again.
15.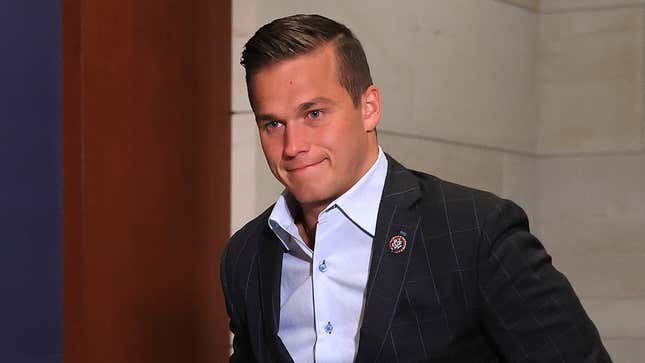 The Onion: Who do you think is the source of these leaked videos?
Cawthorn: I simply don't know. I keep going online and uploading these videos to social media and then pressing post, and how they get onto the internet, I simply can't say.
16.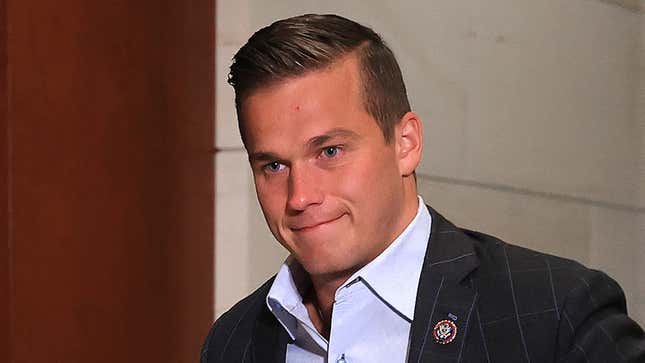 The Onion: Do you think you're being blackmailed?
Cawthorn: Absolutely. The worst part is I've complied with all of my persecutor's demands—sending them videos of me naked humping a pillow, photos of myself in women's lingerie. I've given them everything they want, and yet they still won't let up.
17.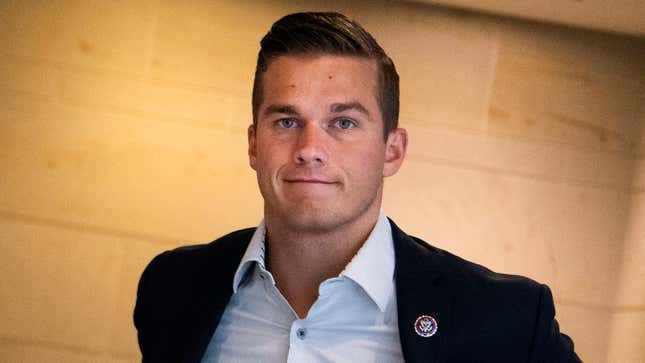 The Onion: What the fuck's wrong with you?
Cawthorn: The good news is I'll never spend a moment of self-reflection trying to figure that out.
18.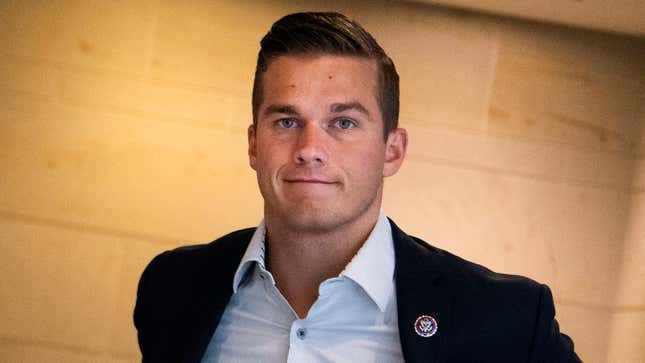 The Onion: You accused a colleague of doing a "key bump" of cocaine. Is this a term most Americans would be familiar with?
Cawthorn: It was bigger than a gummer and smaller than a gator tail. What else was I supposed to call it?
19.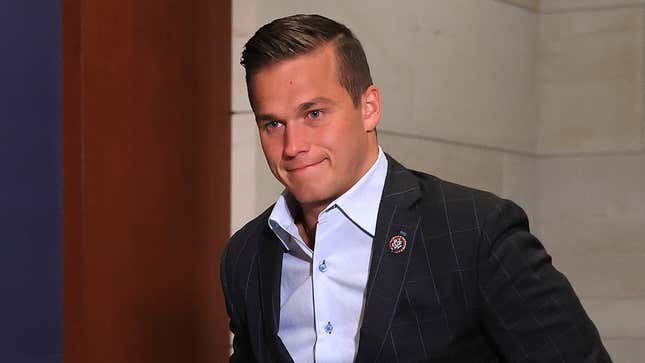 The Onion: Why won't you reveal the identity of the member of Congress who invited you to an orgy?
Cawthorn: I swore an oath to the Constitution to protect "the lifestyle" even when it's not convenient.
20.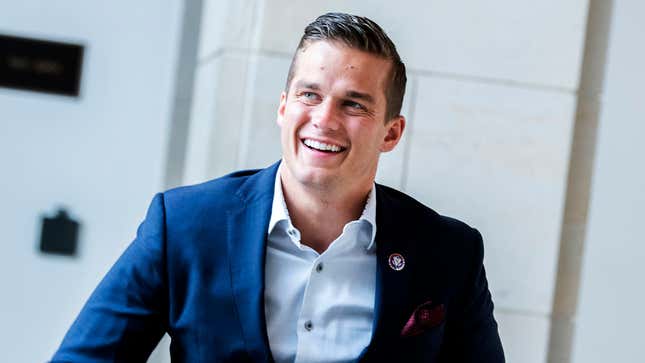 The Onion: What does "Let's go Brandon" mean?
Cawthorn: I know what it's "supposed" to mean, but to me, "Let's go Brandon" is a call to a higher power, something greater than ourselves. It's a collective shout into the celestial abyss, a powerful communal invocation for a more satisfying and meaningful way to live. When I am with my friends and we yell "Let's go Brandon," we know we are standing alongside generations of our predecessors and generations of those to come, demanding of ourselves that we reach our full potential. I'm really glad you asked. Thanks.
21.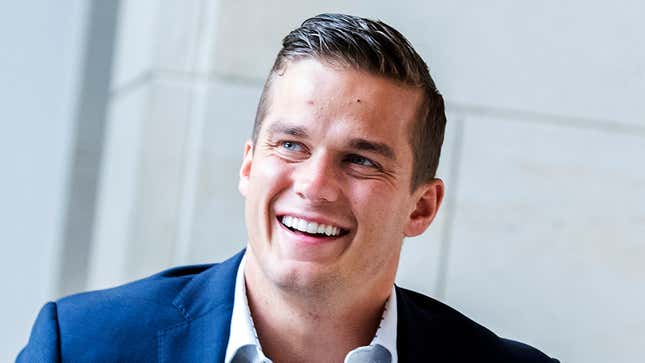 The Onion: What sets you apart from other Republicans?

Cawthorn: I'm hotter than Mitch McConnell, I party harder than Kevin McCarthy, and I'm naked almost as much as Ted Cruz.
22.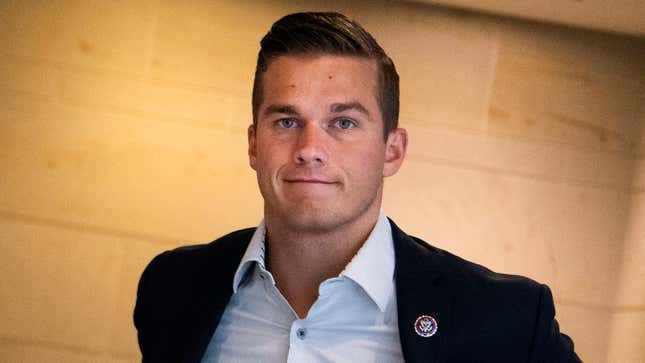 The Onion: Do you see yourself as an inspiration for younger people considering a run for office?
Cawthorn: Sure, as long as they think like an 80-year-old.
23.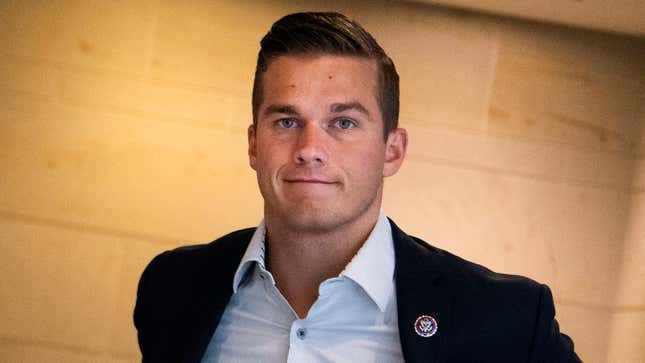 The Onion: Are you the future of the Republican Party?
Cawthorn: That honestly depends on how much Rush Week footage eventually gets out there.
24.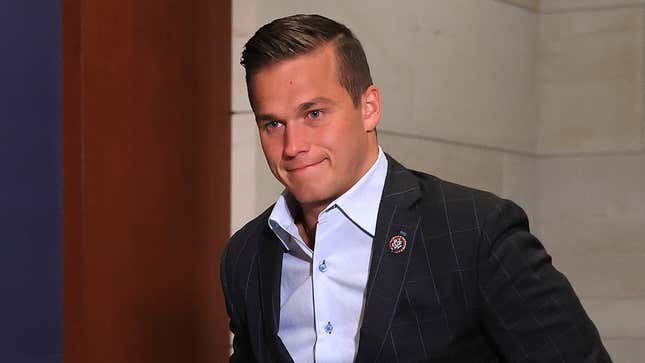 The Onion: What's next for Madison Cawthorn?
Cawthorn: I guess the Republican Party is gonna destroy me, and no one in the world is going to care.
25.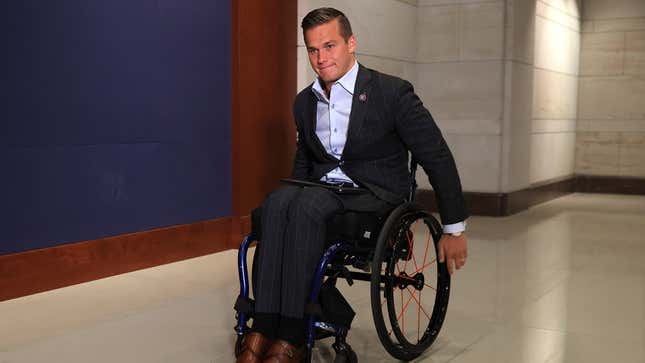 The Onion: As-salaam alaikum.
Cawthorn: Wa-alaikum salaam.