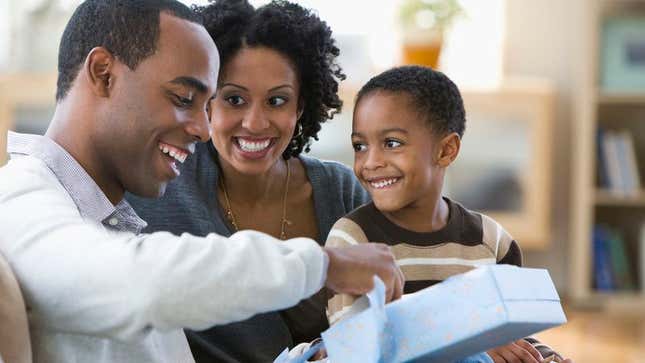 The Onion presents a selection of gifts perfect for every dad just in time for Father's Day.
This Week's Most Viral News: September 22, 2023
---
Briefcase ($150)
This Father's Day, give your dad a gift that reminds him he's still many years away from retirement.
---
Private Garage-Cleaning Lessons ($80/hour)
Just a few sessions with a certified garage decluttering expert will help your dad expand the breadth of his knowledge and hone his technique.
---
Brass Frank Sinatra Totem ($35)
Make sure Dad is never without the spiritual healing powers of the legendary crooner.
---
'Sailing Accident 2' For VR ($49)
Perfect for the tech-head, this game will allow your dad to live out his dream of handling a crisis at sea.
---
Brooks Brothers Tie ($60)
A silk tie adds the perfect pop of color to any father's dresser drawer.
---
'The Guys' Action Figures ($100 for set of 4)
Spark your dad's imagination with Pete, Geoff, Don, and Bill. He'll spend hours shooting the shit and watching the game with them, and when he's done, they can be stored in their protective display cases.
---
Small Porcelain Carafe ($75)
Look, he drinks coffee and there's no reason he shouldn't be able to pour his cream out of a decent-looking container, okay?
---
Audi A5 Coupe ($46,000)
It's a little unconventional, but a high-end sports car with all-wheel drive is the perfect gift for a dad with quirky taste.
---
Bulk Leather ($50)
You won't have to choose between giving Dad a belt or wallet with this present. Consider putting together a gift basket, including a nice rawhide mallet and a couple rivet setters, too.
---
Card With Handwritten Message Giving Him Permission To Date Again ($3)
It's nothing fancy, but it would make his day if you took the time to tell him that it's fine by you if he wants to get back out there.