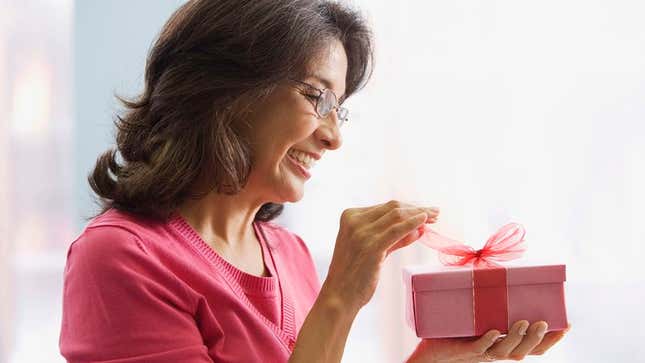 With Mother's Day just around the corner, The Onion has put together a selection of gifts that any mom would love.
---
Lavender-Scented Polaris Ranger Off-Road ATV ($9,000)
The perfect gift for a mom who loves to explore off the beaten path. Also available in Cappuccino and Tea Tree Lemon.
---
Registered Domain Name ($0.99)
With her very own URL, now all Mom has to do is port the domain to a hosting platform, pick any CMS she wants, and code to her heart's content.
---
Promise Of Going Out To A Nice Dinner In A Few Weeks ($0)
That'll buy you some time.
---
DNA Test That Proves You're Her Child ($200)
Your mom will appreciate the personal thought and effort that went into this unique gift.
---
Creamy Vanilla Coconut Yankee Candle ($21.99)
She's going to end up putting this in her bathroom come hell or high water, so it might as well come from you.
---
Spa Package ($129)
A pampering treatment is perfect for any mom who wasn't able to retire early because you refused to go to an in-state college.
---
Custom Cabinet Knobs That Look Like Your Head ($78)
There's nothing that will make Mom happier than seeing your face every time she reaches for a can opener.
---
Box Seats To QVC On Ice ($160)
All her friends will be jealous when you take Mom to see Shawn Killinger and Jill Bauer show off the best new jewelry cleaner and collapsible luggage in a live ice-skating spectacular.
---
Card With A Cat On It ($3.79)
Sure, just write something in it about how you love her more than anything. She'll eat that right up.