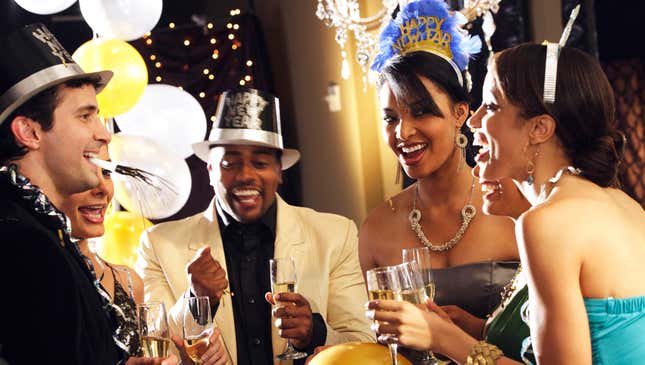 Millions of people are preparing to ring in the new year by hosting friends and family for a night of food, fun, and festivity. Here are The Onion's tips for ensuring that your New Year's Eve party is enjoyable and memorable:
Make a fun playlist filled with your favorite party songs and then force your guests to sit in complete silence as it plays.
To create a festive atmosphere, print out a sheet of paper that says "2014" and tape it to the wall.
Heighten the excitement of reaching the new year by counting down from 10,000 starting at 9:13 p.m.
Set out a single loaf of multigrain bread for guests to snack on during the party.
Noisemakers, party hats, and cheery 2014 novelty glasses are a great addition to the world's landfills.
Give your home that Times Square atmosphere by urinating all over your floor, tossing around a bunch of crushed paper cups, and hanging up an electronic sign that says "M&M World."
Cheese trays make excellent things to stand around while the guests at your party discuss how much they hate work and just want to get drunk tonight.
If things get dull, invite your guests to play traditional New Year's games such as Jak And Daxter: The Precursor Legacy, Jak II, Jak 3, Jak And Daxter: The Lost Frontier, and Jak X: Combat Racer.
Wear the seafoam dress. Mark said he'll be there, and it's over with him and Kayla. Make your move.
If your guests are bringing their children, have some form of entertainment for them like a DVD or a knotted rope.
Have everyone in attendance write their New Year's resolutions on a scrap of paper and place them in a hat. Then, sometime around midnight when you've had too much to drink, place the hat on your head while you scream that you fucking hate everyone there.
Remember, your guests are fucking disgusting, grubby pigs. They're loud and messy, and look what they did to your goddamn living room. They say they're good to drive, so just let them. Jesus, just get them the fuck out. Fuck them. Fuck New Year's.
CDC Issues Dire Warning That Nick Cannon Is Feeling Horny