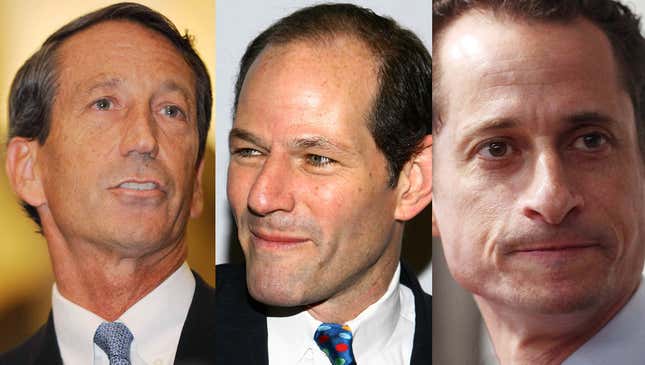 After the bad thing you did is first uncovered, try not to keep doing that bad thing.
Forcing the loved ones you've hurt through your own selfish indiscretions to back you publicly probably can't hurt.
Constrict the pharyngeal muscles, depress the lip corners, pucker the brows, and innervate facial nerves to evince remorse.
Explain that infidelity and corruption are perfectly normal, natural things in a politician's life, and can actually be very beautiful.
Study the examples of John F. Kennedy, Thomas Jefferson, and Bill Clinton, and realize regardless of how many times you demean your wife by sleeping with other women, you'll eventually become an American hero.
If a reporter brings up your checkered past, speak up and let them know they've crossed the line. You don't have to take that shit.
Hope people like yourself have already degraded politics to the point that nearly anyone can be elected.
If things get rough, just remember the good ol' days when you were getting away with it.
Own it, man. Just own it.
Don't worry too much about negative attention, as the media rarely chooses to dwell on such frivolous fodder as a scandal-plagued politician attempting to redeem his name.
Write "winner" in lipstick on your bathroom mirror.
Take heart by thinking about all the beloved politicians who salvaged their reputations after major scandals, such as John Edwards, Todd Akin, Jim McGreevey, Rod Blagojevich, Mark Foley, Eric Massa, Larry Craig, John Ensign, Gary Condit, and Richard Nixon.
Realize that maybe politics just isn't the place for people with checkered pasts, poor decision-making skills, and utterly impulsive behavior.