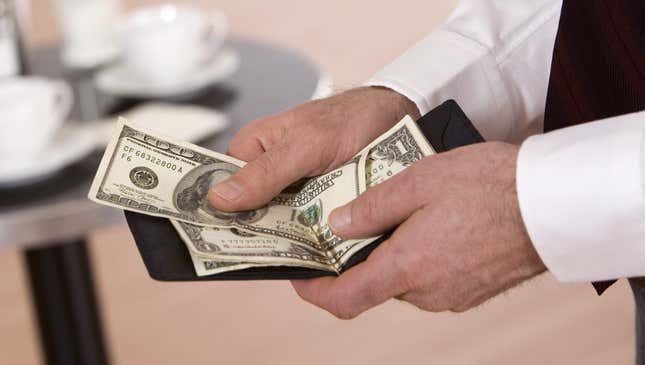 Many Americans are looking to cut costs to secure their financial futures. Here are The Onion's tips for saving money:
A big part of living frugally is exercising self-control. Avoid frivolous spending by cutting up all of your cash so you won't be tempted to use it.
Many careless consumers hemorrhage hundreds of dollars each year by tipping waitresses; don't fall into this money-wasting trap.
Cut monthly food expenses by first shopping for used groceries before buying new.
Call the kidnapper's bluff.
Building a strong savings plan takes a lot of time and effort, so you'll want to approach the task well rested and with a clear head. Start out by taking a weeklong vacation to a luxury resort on a remote Polynesian island. Be sure to partake in all of the first-class amenities the resort has to offer: hot stone massages and tea tree oil facials, gourmet room service, daily catamaran rentals, and scuba diving lessons. Really make the most of your stay so that you can return relaxed and ready to plan your financial future.
Most home and car repairs can be done yourself if you're one of the few strong, reliable classic American men left.
Avoid costly habits like smoking, drinking, and child-rearing.
Drugstores and pharmacies often have rewards programs that offer exclusive deals to members. Flash the secret hand signal to your cashier for special deals.
Above all, resist enjoying life.
Nation's Blakes Cruise Easily Through Lifeguard Tryouts