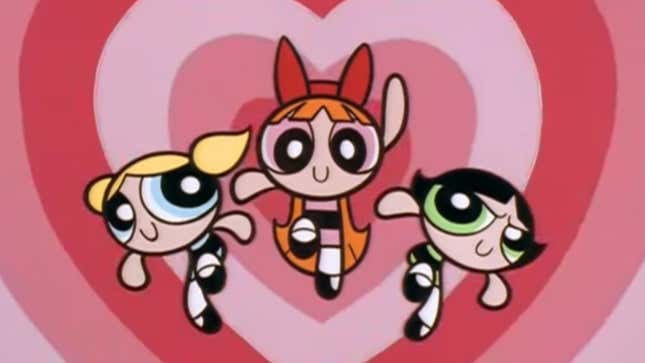 Nov. 18 marks 20 years since the debut of The Powerpuff Girls, the Craig McCracken–created cartoon that follows three kindergarten-aged girls with superpowers. The Onion looks back at the beloved show on its 20th anniversary.
CDC Issues Dire Warning That Nick Cannon Is Feeling Horny
---
1944:
Robert Oppenheimer creates the Powerpuff catalyst agent, Chemical X.
---
1998:
Parents across nation ask "What the heck are you watching?"
---
1999:
The show's popularity spurs an alarming trend of surgical procedures to make children's eyes the size of their entire face.
---
2000:
The name "Mojo Jojo" sees an enormous spike in popularity for newborn boys.
---
2001:
Special 9/11 tribute episode features the girls beating the crap out of Osama bin Laden.
---
2002:
Second-grader Mariah Michael is informed by her older sister that there can't be two Bubbles so she has to be Buttercup.
---
2003:
Celebrating the show's overwhelming success, producers generously give the South Korean animation team a full hour off.
---
2005:
Final episode shows all the bad guys grappling with the fact that they're trying to beat the shit out of children.
---
2008:
Eleven-year-old Jimmy Curtis insists he's only watching a three-hour marathon of the show to make fun of it.
---
2016:
Cartoon Network reboots the series on the off chance that people will enjoy watching a slightly different version of something that was previously popular.