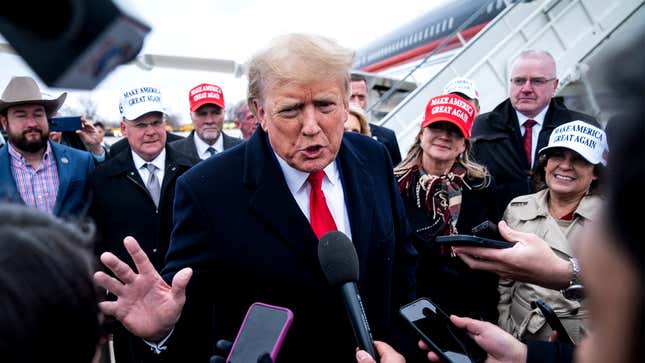 Former President Donald Trump is facing a potential indictment by the Manhattan district attorney over alleged hush money payments to adult film actress Stormy Daniels, setting off a national firestorm of controversy. The Onion tells you everything you need to know about Trump's potential indictment.

Trump Takes Out Full-Page Newspaper Ad Calling For Death Penalty For Himself
Q: What is Trump being charged with?
A: Botching a layup crime that anyone with his wealth should have gotten away with no problem.
Q: Who is bringing the charges against him?
A: Rich, out-of-touch New Yorkers who could never understand Trump's middle-class heartland values.
Q: Why wasn't Trump arrested on Tuesday like he said he would be? A: This was a rare instance of the usually prudent former president posting before thinking.
Q: Is this the first time a former president has been indicted?
A: No, Jimmy Carter was found guilty of leading one of the biggest credit card skimming rings in history.
Q: Will there be riots in response to his arrest? 
A: The correct term for when white people smash things is "demonstration."
Q: How is the media covering this story? 
A: They're striving to hit that sweet spot of breathless and reckless.
Q: Would imprisonment impact Trump's 2024 presidential candidacy?
A: Trump has vowed to run for president from prison just like his hero Eugene Debs.
Q: What does it tell us as a nation that Trump is the first U.S. president ever criminally charged?
A: That The Hague has really been slacking off.
Q: So will Trump go to prison? 
A: In a way, he has been in a prison of his own privilege his whole life, but no.