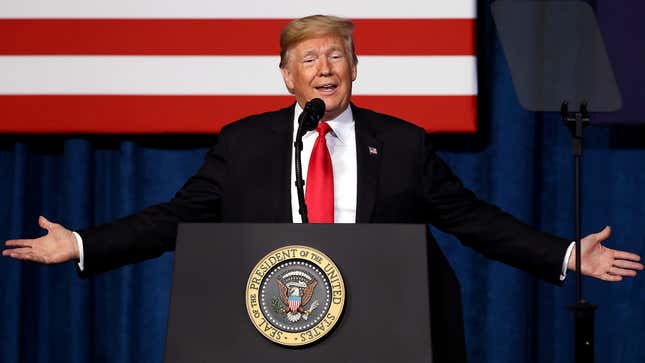 Nearly halfway through his presidential term, Donald Trump has continued to exist in a perpetual state of controversy, and 2018 provided no shortage of outrageous moments. The Onion looks back at the most significant events in the Trump presidency in 2018.
Edgelords Explain Why They Love Elon Musk
---
January 3:
Trump disbands his voter fraud commission after realizing it's unlikely to land Hillary Clinton in prison.
---
January 8:
Michael Wolff's blockbuster book Fire And Fury forces Americans to reckon with the possibility that the Trump administration may be somewhat disorganized.

---
January 30:
Trump uses first State of the Union to tout his infrastructure plan, something that is totally, definitely still happening.

---
February 22:
The Department of Justice rescinds civil rights protections for transgender students. Or maybe that was last year. We don't know anymore.
---
March 22:
Administration criticized after its official women's health website removes all mention of women.
---
March 23:
John Bolton added to general sense of foreboding.
---
May:
That whole weird deal where we didn't see Melania for like two weeks.
---
July 1:
Nation finally resigns itself to the fact that it's always going to be like this.
---
October 6:
Trump's reckless Supreme Court nomination of alleged sexual predator Brett Kavanaugh is rejected by the upstanding members of the Republican Party in a brave stand for basic moral principles.
---
October 22:
At a rally in Houston, Trump describes himself as "a nationalist" to six seconds of silence, then adds "the nation is America" to 20 seconds of raucous cheering.
---
October 25:
McRib returns to participating McDonald's.
---
December 5:
President lauded for attending funeral correctly.
---
December 12:
Sentencing of former attorney Michael Cohen to three years in prison alerts distraught Trump to existence of Mueller investigation.