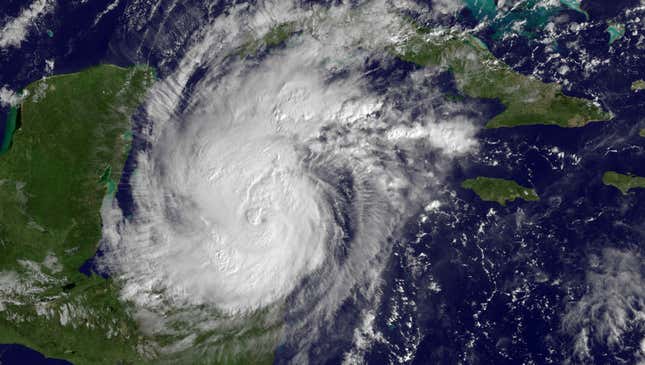 Hurricane Florence hit the Carolinas last week, leaving many residents stranded or displaced by rising floodwaters and becoming the latest major hurricane to devastate the U.S. in recent years. The Onion looks back at the worst hurricanes in United States history.
Ron DeSantis Announces He Will Live As Slave For One Year To Prove It Not Bad
---
1900 Galveston Hurricane:
This devastating Category 4 storm destroyed over 3,000 homes, but you have to imagine they made them a little shittier back then.

---
1926 Miami Hurricane:
Estimated to have caused $150 million worth of damage, which adjusted for inflation today would probably be $850 trillion or something crazy like that.
---
1935 Labor Day Hurricane:
This deadly hurricane did help scientists make important inroads on the harmful effects of drowning.

---
1969 Hurricane Camille:
Meteorologists were unable to accurately measure Camille's monumental wind speeds, despite it being their only fucking job.
---
1992 Hurricane Andrew:
Category 5 extreme winds damaged more than 127,000 homes in areas where everyone was surely smart enough to never redevelop.
---
2005 Hurricane Katrina:
With $108 billion in damages, Katrina is the most commercially successful hurricane in the country's history.
---
2012 Hurricane Sandy:
This superstorm caused a catastrophic amount of Chris Christie media attention.
---
2017 Hurricane Maria:
The devastating storm that hit Puerto Rico required a refreshingly low amount of government recovery funding.