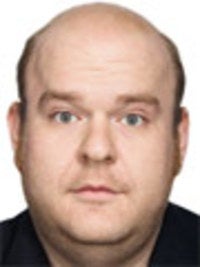 In a world…
Where dollars have no meaning…
And retirement funds are running out…
One man and his bank account must fight to survive.
This summer, it's Roger "The Rock-ger" Dudek in…
The $10 Movie: 3-D(ollars for a pretzel?!).
Hiya, loyal readers! It's your favorite Jester of Journalism, Roger Dudek, back from a brief and unrequested hiatus to my semi-quarterly but always hilarious column. And boy are my arms (not) tired! My editor Tony said I can write everything from home these days, but I told him, "No wayze, Patrick Swayze" (RIP). After all, I couldn't pass up the chance to spend some time with my favorite coworker…the air conditioner! Give me a nine-to-five over a 95 any day.
Degrees! Am I right, folks? Holy El Niño, Batman! More like a heat tsunami.
I'm telling you, my house is so hot right now, I'm surprised it hasn't boiled my funny bone into rubber chicken noodle soup. My family is sweating like Heidi Fleiss at the Policeman's Ball. Rosemary and the girls just lie around all day watching Army Wives and trying to catch a cross breeze. I haven't seen anyone sit that motionless in front of a fan since I handed David Paymer the manuscript of my book in an airport!
I'm on fire! Literally!
But when the temperature outside gets higher than Larry King's pants, it's an all-out mutiny in the Dudek household. My wife and daughters team up and sentence me to be torn limb from limb…specifically, the arm and leg I lose at our local cineplex! Now Thor be it from me to be stingy, but movie ticket prices have risen a Fast Five since I last Saw them. I wonder if those Hollywood Pirates (Of The Caribbean) enjoyed hearing me Scream 4 mercy while they Super 8 my paycheck.
Check, please! Make it a paycheck. In fact, make it two!
But once you're inside the theater, you're in for a real thrill. Just last week I got to see a terrifying silver machine attack a bunch of helpless civilians who barely escaped being completely wiped out. No, not the new Transformers movie. I'm talking about the concession stand ! Yikes! More like recession stand! Does this large soda come with a replacement college fund? I'm serious, folks. That concession guy had his hands so deep in my pockets, I was lucky to escape with my Raisinets. I'll take a small popcorn, please—hold the bankruptcy.
How long does the summer movie season last, anyway? Every time I'm in the theater, I feel like I'm stuck in the world's priciest time loop. I'm definitely stuck in something, because all the floors are covered in soda! Someone call Dr. Pepper, stat! I need an emergency Reebok-dectomy or I'm gonna miss the Coming Attractions.
More like Charging A-Fortunes !
Of course, when I try to reason with my daughters, they look at me like I'm a silent picture. "We wanna see the new Harry Potter movie, Dad." Yeah, well, I want to see Vanna White put on a bikini and fix me a roast beef sandwich, but not if it's spread out over 10 years and costs me a car payment. Can you say "I'm ready for my foreclosure, Mr. DeMille?" I'm not kidding—the most unbelievable part of this last wizard movie was my receipt! Folks, that total had more digits than Cindy Crawford at last call. That movie was so expensive, they did a credit check instead of opening credits.
Silver screen? At these prices, it better be!
I guess you could say I don't get the appeal. All that dough just to sit still for a couple of hours and not leave with a commemorative beer stein? Tom Hanks but no Hanks, summer blockbuster season. If I wanted to spend my time in a building full of people who enjoy wasting money to sit around and do nothing…I'd run for Congress!
That's right. You can read my lips: No new movies. Sure, my wife and kids might whine and throw a fit or two (Electric Boogaloo), but I'm putting my foot down. Unfortunately, my foot is on the gas pedal, and I'm driving us all to our in-laws' lake house! Turns out you don't have to spend a lot of money to see a horrifying monster from another world. But you do have to marry my wife!
And meet her mother!
See you this spring, Dudekerinos!
Roger Dudek lives in West Virginia with his wife, Rosemary, and his twin daughters. He is a professional, syndicated humor columnist who has been writing professionally for more than 20 years. His column, Write On The Funny!, has been published intermittently in dozens of newspapers since it began in 1992. His comedic book of humorous essays, Memoirs Of A Guy-sha, is still looking for a publisher.