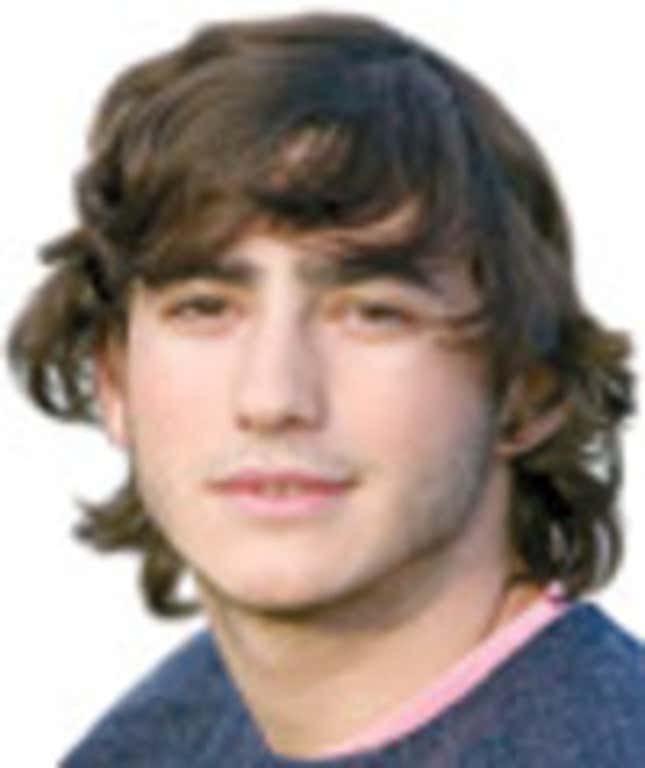 So, I'm in the Gap, right? The new fall line is out, and I'm looking at the standard fit, straight-leg jeans. And these fuckers are just awesome. They sit real nice just below the waist, are slightly loose through the leg, and come in four stellar washes—even though as far as I'm concerned, the lighter washes are complete bullshit, but whatever. We'll save that for another time.
Edgelords Explain Why They Love Elon Musk
Now, I'm not going to say there was anything supernatural involved, but all of a sudden it was like the clouds parted and the angels started trumpeting hallelujah or something and my eyes just slammed in the direction of a mannequin wearing the sweetest fucking navy blue V-neck sweater I have ever seen.
Talk about a perfect goddamn sweater. I may have been 20 feet away from the display, but I was already thinking about how I would wear that fucker. Would I go classic Garrett Alford and wear a white T-shirt underneath, or would I maybe get a little crazy, wait for the perfect fall day, and bust out my plaid shorts? Sweater with shorts. Pretty awesome, right? Most people would balk at such a combination, but I wasn't fucking around. And with its unbelievably versatile wool polyblend, dry-clean-only material, the sweater wasn't fucking around, either—especially not at $39.95.
You gotta love the Gap. Got to!
At first I played it cool, as if the sweater were just some stupid fucking American Eagle T-shirt. But when the sales associate told me he didn't have my size in the back, I seriously almost flipped my shit. I should have seen this coming because—and I'm not trying to brag or anything—I wear medium, which is a pretty popular size. So I went to check the mannequin, and, lo and behold, the son of a bitch was wearing a medium. But he wasn't just wearing the sweater. He was doing everything right with that sweater. Everything. It was as if the mannequin intrinsically knew all the nuances of how the sweater should be worn and understood on a deeper level exactly why I would be attracted to that particular garment. What became completely fucking undeniable at that moment was that the sweater worked on two levels. I'll say it again: two levels.
Let me explain.
The mannequin had on a pair of jeans with a couple small rips in the denim, and a button-down white shirt that wasn't tucked in. Now, you see these two pieces of clothing on their own and you think, "This guy's a dickhead." But throw in that navy blue V-neck, and suddenly we got an interesting fucking dichotomy going on. Did this guy wake up, throw on some clothes, and just happen to look awesome? Or—or—is he about to go out to a bar and be the envy of everyone who is too dressed up or not dressed up enough? Either way, the guy's golden. He cares, but he doesn't. Two levels.
But as good as the mannequin was, he could never figure out how to amp up those two levels enough to take that sweater to the max. That's where I come in like a fucking freight train. See, even though I am in no way gay, I knew the sweater had the potential to make me look handsome: By tucking in the shirt and adding a tie, I become this suave gentleman who your parents are going to lose their shit over. Or, I go the complete opposite direction by wearing tennis shoes and a baseball cap, and keeping the cuffs of the collared shirt unbuttoned, in plain view, so everyone can see that I'm a guy who doesn't give a flying fuck if his cuffs are buttoned or not.
Understand? We have here an entire look, a fully formed lifestyle, flowing directly from that navy blue V-neck sweater.
I asked the Gap employee if I could have the mannequin's sweater. Though he insisted it was against store policy, he listened to all the things I wanted to do with the sweater, and how I needed it for a date I was going on later that night. He must have really appreciated my passion because he pissed all over that store policy and let me buy it. Of course, I didn't really have a date, but now that I've got this sweater, I'm sure it won't be long. That's a fucking guarantee.