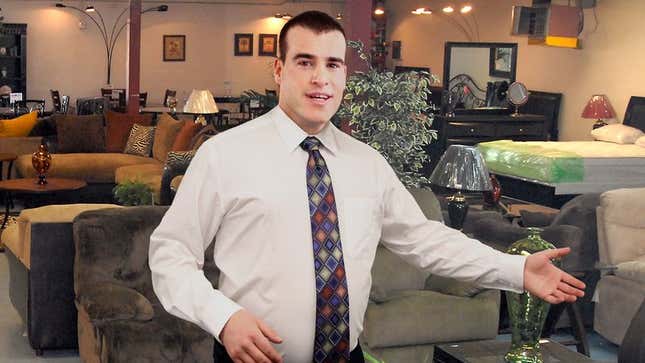 RICHARDSON, TX—Upon observing a couple examining the furniture item with apparent interest, area man Aaron Eakins, who would have been a formidable and revered warrior had he lived 4,000 years ago, approached the pair and told them it was his bestselling love seat, sources said Thursday.
Edgelords Explain Why They Love Elon Musk
Eakins, a sales associate at Cooper's Furniture Outlet for the past three years and someone whose height and strong build would have made him a fearsome adversary in a Bronze Age civilization, reportedly spoke to the couple for several minutes about the love seat's price, durability, and stain-resistant fabric.
"This one's real popular," said Eakins, who four millennia ago would have led hundreds of fanatically loyal soldiers into battle, cutting down enemy after enemy with powerful swings of his ax. "Why don't you folks sit down and try it out?"
"That's our microfiber blend—super easy to clean," added the man whose fabled strength and unmatched prowess in combat would have caused his very name to strike dread into the hearts of all who heard it.
The love seat was reportedly part of a three-piece set, and Eakins pointed to the matching full sofa and lounge chair in the same way he might have once gestured across the vast forests and mountains of his expansive domain—lands through which he would have cut a broad swath of destruction, plundering every village in his path and demanding that the trembling inhabitants swear fealty to him on pain of death.
The man whose body would have been lavishly adorned in amber, gold, and the bones of his vanquished foes then reportedly flipped through a ring of different-colored fabric swatches to show the couple how the love seat would look in white, off-white, beige, mocha, sage gray, and charcoal.
"All our furniture comes with what we call our worry-free five-year warranty," said Eakins, whose exploits—from ruthlessly conquering every rival clan between his kingdom and the sea to single-handedly slaying 20 ferocious barbarians with a broken sword—would have been recounted over and over in saga and song that would preserve his legacy for all time. "It'll cover any defects in materials or craftsmanship."
"That's real maple there, too," he added, instead of issuing, as he would have circa 2000 BC, an absolute decree while surrounded by pikes impaled with the severed heads of enemies.
Sources said that when the couple asked about the availability of a particular fabric weave, Eakins stepped into a small break room to seek an answer from his assistant manager, apologizing for interrupting the lunch of the man who in centuries past he would have beaten with his gauntleted fist before plunging a dagger into his throat, taking his wife as a prize, and burning his village to the ground.
"You get free delivery when you spend $1,500 or more," said Eakins, who once would have had a harem full of wives and concubines at his beck and call, guaranteeing his exalted name and bloodline would be carried on through a hundred generations, with his descendants heralding him as the founder of their proud lineage. "That includes our white-glove service, where we bring the furniture inside and set it up in a room of your choice."
Reaching down to silence the holstered cell phone that hung at his side instead of a mighty blade that had tasted the blood of thousands, he added, "There's also a matching ottoman if you're interested."
At press time, sources confirmed that instead of attending a bounteous feast held in his honor, with legions of followers roasting great beasts on spits, breaking open jars of wine, and rapturously chanting his name, Eakins was carefully pulling back the plastic film on a microwave lasagna.