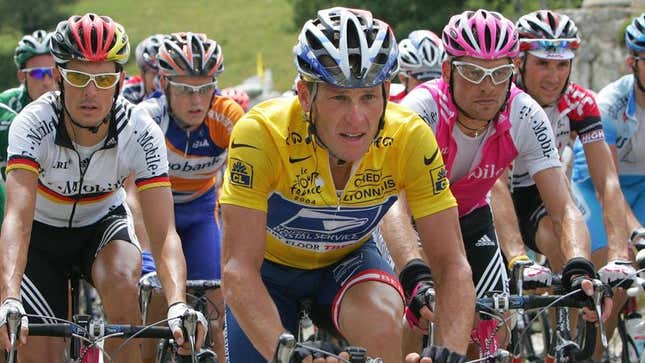 AIGLE, SWITZERLAND —In the wake of overwhelming allegations that he engaged in illegal doping throughout the course of his professional career, cyclist Lance Armstrong was stripped of his seven Tour de France titles Monday, effectively making this article the last story ever written about the sport of cycling.
This Week's Most Viral News: September 22, 2023
This one, right here, sources confirmed.
Accepting the U.S. Anti-Doping Agency's sanctions against Armstrong for allegedly overseeing a far-reaching doping conspiracy, the International Cycling Union has erased his name from the record books and banned him from the sport for life, marking an ignoble epilogue to the athlete's career and ensuring that cycling will never be mentioned in a mainstream news publication ever again, because, what's the point?
"Given the staggering body of evidence and testimony against Armstrong, we cannot advocate sanctions any more lenient than these," ICU president Pat McQuaid said Monday at a press conference in which reporters who had covered cycling since Armstrong won his first Tour title in 1999 exchanged farewells with one another. "But while his conduct has dealt a heavy blow to cycling, we are confident that—actually, why am I even here anymore? Lance Armstrong is done and cycling is over."
"I understand why you're all walking out of this press conference," McQuaid added. "I would be too."
According to sources and basic common sense, now that the storied career of cycling's most prominent and marketable figure has been revealed as a complete and undeniable fraud, there is no chance the sport will ever again receive even one line of coverage from any news outlet in the world.
Though Armstrong has tarnished the unpopular sport's reputation with drug trafficking, blood-test manipulation, and general moral hypocrisy, nothing else really needs to be reported on the subject. In fact, these statements, sources confirmed, are redundant and would have been removed in the editing process if anyone still gave a shit and didn't just want this article to be over.
At press time, now that a few hundred words have been obligingly thrown together on the matter, this is reportedly the last paragraph in the last article ever written about cycling, and it will conclude with a few more words and then a final period.