WASHINGTON, DC—In an inspiring display of mobility, thousands of Americans from every walk of life swarmed the nation's capital Sunday to protest having to spend another minute cooped up in the house.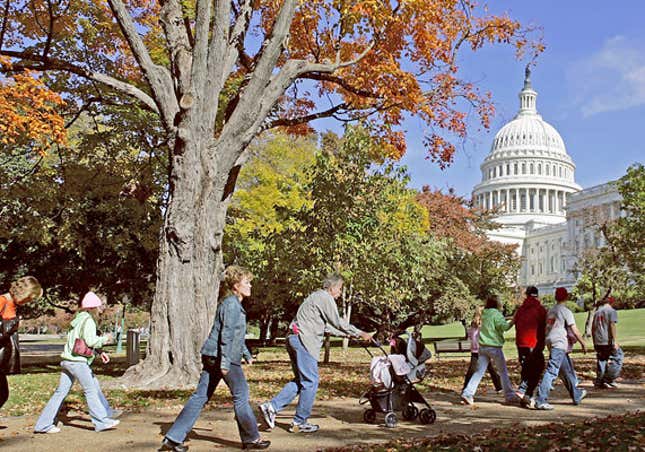 This Week's Most Viral News: September 29, 2023
The event, which marks the 40th consecutive weekend march around Washington this year, was documented by nearly all in attendance with the help of digital cameras, but went largely unreported by mainstream media. According to official estimates by the D.C. Chamber of Commerce, more than 20,000 citizens descended upon the White House, the Lincoln Memorial, the Air and Space Museum, and the city's trendy Georgetown neighborhood on a day many said they would forever remember as being in the mid-70s with a nice southeasterly breeze.
"When I turned on the news and saw the forecast, I knew I had to get out and do something," said Maryland resident Tim Shrider, who brought his entire family and dog to join him in a united stroll near the Capitol Building. "At least for part of the afternoon."

Coming from as far away as Iowa, Florida, and 30 miles outside the city, the meandering throngs walked for blocks in every direction, stopping only to eat at cafés and admire the reflecting pool, all the while chanting inspiring slogans like "What a beautiful day" and "We should do this more often" amongst themselves. An energetic group, their intense commitment to stretching their legs could not be denied as map-wielding marchers brought traffic to a standstill at several important crosswalks around the National Mall.
While many reasons were given for the massive demonstration of public restlessness, the primary concern cited by participants seemed to be a sense of anxiety that the country is headed toward a chilly autumn.
"The time had come for all of us to get off the couch and finally visit that new Italian place we've heard so much about," said Grace Rosen, who refused to be seated until her family was given the table for four they deserved. "It was something we simply had to do."
The multifronted assault on D.C.'s landmarks and souvenir shops ended for some at the gates of the White House. Facing heavy security and long, demoralizing lines, only a fraction of those assembled were able to purchase tickets and march through the executive residence with a tour guide.
"Even if my children are too young to remember everything we did here today, I think it's important that they see for themselves what Washington, D.C. is all about," said Cecilia Gareth, who chose to leave the procession early in order to trudge the half-mile route to a local relative's house. "This is a great day."
By mid-afternoon, the crowds had filled many of the city's public parks. While couples joined hands in solidarity, some brave men and women took to the streets with their guitars, singing songs of peace, love, cheating spouses, sunny tropical destinations, and attractive women.
The day of zealous window-shopping and picnicking reached a fevered pitch when a group of college students approached the grassy area surrounding the Washington Monument and began hurling Frisbees and footballs across the field.
Police reported only a handful of arrests, including three civilians exercising what they insisted was their right to walk diagonally across main roads during rush-hour traffic.
Despite the relative calm, some local residents claimed the march was an overreaction to Washington's clear skies.
"Are people just going to storm the Vietnam Memorial and the Smithsonian every time we have a nice day in the capital area?" said D.C. Metrobus driver Jeff Paulsen, who was some eight minutes behind schedule due to the slow-moving crowds. "I was a supporter of recreational activities in college, but these kids today will use any excuse to get outdoors and walk around."
Added Paulsen: "For God's sake, get a job."