Statistics released by the Department Of Defense estimated that 2,937 U.S. troops and over 100,000 Iraqi civilians have died in the ongoing American military victory in Iraq.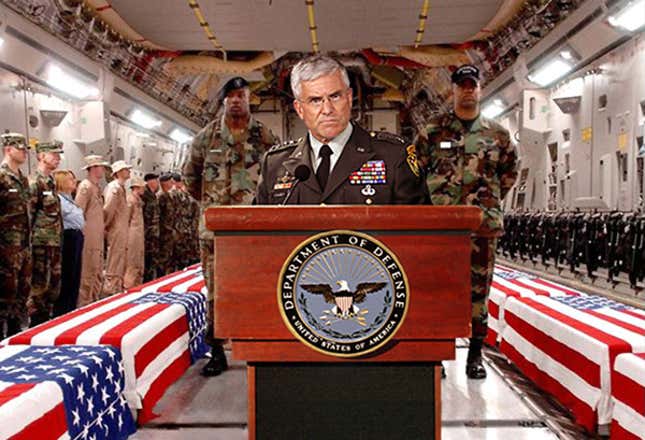 CDC Issues Dire Warning That Nick Cannon Is Feeling Horny
"Victory deaths are at a higher level than we had anticipated, yes," Gen. George Casey, Jr. said at a press conference shortly after the figures were released. "But one of the crucial lessons of our Vietnam experience is that a victory, in order to remain victorious, can't be abandoned halfway through, or in the case of Iraq, one-eighth of the way through."
"And significantly more troops may be required if we are to continue to enjoy that victory, especially if this turns into an all-out civil war," Casey added, stressing that it was still too early to deem the victory a "quagmire."
Debate continues over whether U.S. troops should be withdrawn from the Iraqi theater of victory. While some in Congress argue that a withdrawal would force Iraqi leadership to enforce the victory on their own, many military experts say that Iraqi troops remain insufficiently trained and unprepared to handle the daily perils of victory.
President Bush has consistently warned that if we hand over victory to local forces right away, there's a risk that victory may worsen, as Iraqis won't be able to contend with the guerrilla attacks and improvised explosive devices that claim the lives of dozens of the victorious every day.
"We're paying dearly in the form of American lives," Bush said, "but, plainly speaking, that's just victory for you."
Casey's remarks came nearly two weeks after some 200 Iraqi Shi'ites died in a series of car bombs in Baghdad's Sadr City, the largest single victory-related death toll since the U.S. won the Iraq War in 2003.
In an address to the nation Dec. 10, President Bush predicted that, if efforts continue as they have in Iraq, "This could become America's longest victory ever," Bush said.