WASHINGTON, DC—In a time-honored annual ritual, thousands of high-school seniors across the nation are cramming for final exams, trying on their graduation gowns, and preparing to break up with their longtime sweethearts.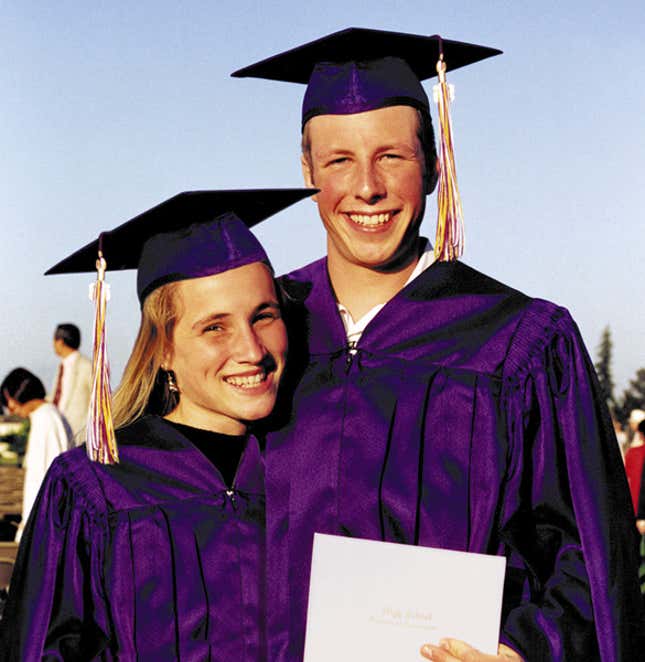 This Week's Most Viral News: September 29, 2023
"Amy is an amazing girl," said Lancaster (OH) High School senior Jeff Reidel, who next week is planning to break up with Amy Pocoroba, his girlfriend of three and a half years. "I know we swore we'd be together forever, but, like me, she's got a lot of exciting opportunities ahead of her, and it just wouldn't be fair to her to keep her tied down."
Brianna Milbank, 17, a senior at Eisenhower High School in Prescott, AZ, said she plans to break up with boyfriend Chris Keegan in mid-July.
"We've already got plans for a July 4 camping trip that I'm really excited about, so I definitely want to wait until after that," Milbank said. "Chris is such an incredible guy, and these last two years have been amazing. But I just don't think I can give him what he needs right now."
As the seniors take one last look around the halls where they spent the past four years, they are also pausing to take one last look at the significant others they are about to dump.
"Amanda has the most beautiful eyes," said Trevor Hillegas of girlfriend Amanda Lum. "I can't tell you how many times I've gazed into them, thinking they were the only ones I'd ever want to look into. But that was before I visited UC–Santa Cruz. The chicks there are so hot, it's not even funny."
Hillegas said he has not closed the door on the possibility of getting back together with Lum, noting that he would still be open to the idea of the occasional hook-up with her while home during college breaks.
For most high-school seniors, graduation is the time when they cast off the remnants of childhood while accepting the challenges of adulthood. So, too, must they cast off the adolescent relationships forged by convenience, geographic proximity, and limited social opportunity.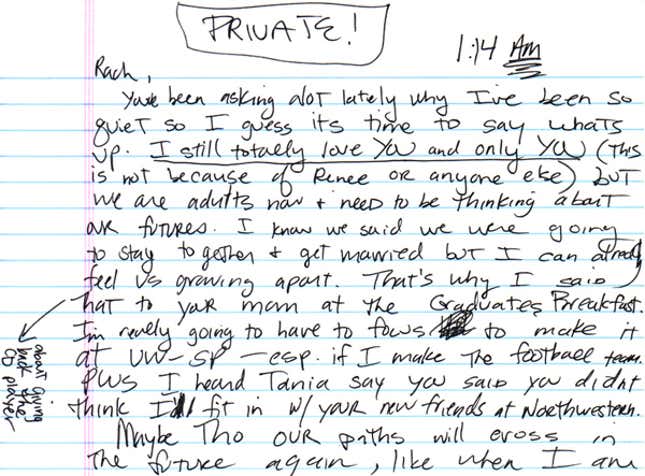 "Jenny [Sykes] is the most beautiful girl in this school," said Brent Decker, a senior at Lake Winola (PA) High School. "But our school has only 220 students, and Penn State has, like, 40,000. There's no way she'd be the most beautiful on that campus."
Meanwhile, those slated to receive the dumpings remain confident that their relationships will endure.
"I love Zach so much," said Batavia (NY) High School senior Lisa Bracken, whose boyfriend, Zach Renfro, is joining the Navy after graduation. "He says he loves me, too, and that he'll try to get stationed near Boston where I'm going to college. I'm sure it'll all work out in the end."
Bracken added that she has not ruled out the possibility of getting pregnant with Renfro's child.
As yearbooks are passed around, signed with promises of remembrance and enduring friendship, so, too, do the seniors promise never to forget what they shared with their future ex-soulmates.
"No matter what happens, Jeff and I will always be close," said Christine Foulks, a Phoenix-area senior who plans to "break the news" to boyfriend Jeff Vanderploeg after their June 22 prom. "I just hope he doesn't expect me to give him his varsity jacket back. Or his Dave Matthews CDs."
Standing in stark contrast to the seniors are the nation's high-school juniors, who expressed horror over their elders' willingness to turn their backs on true love.
"There's no way that's ever going to happen to us," said Mindy Ostrove, 16, a junior at Tallahassee Central High School. "Matt and I are forever. Nobody else could ever understand me like he does. Nobody."