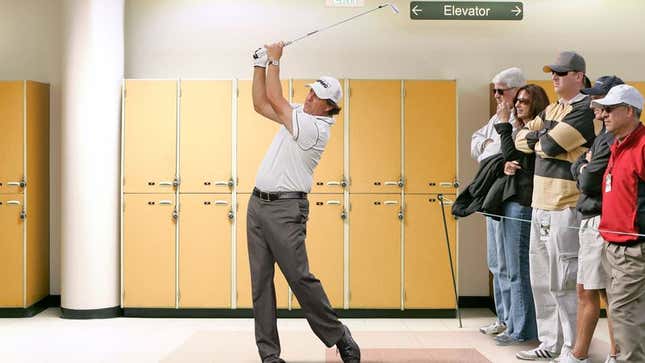 AUGUSTA, GA—Severe thunderstorms in the Richmond County area forced organizers to move the first round of the 2011 Masters indoors to nearby John M. Tutt Middle School, tournament chairman Billy Payne announced Thursday.
This Week's Most Viral News: September 29, 2023
According to Payne, the school offers gorgeous corridors lined with rows of lockers, exquisitely manicured floors, panoramic vistas of breathtaking stairwells, sparkling water fountains, and classrooms lush with desks and chairs that create a stern test for the world's finest golfers.
"As soon as the heavy rain started falling, I knew we would have to move quickly to a secure indoor venue," said Payne, addressing reporters from the principal's office, which also serves as the course's opening tee. "It would have been a shame if weather forced us to cancel the Masters, but luckily Tutt Middle School is very close by and provides a spectacular setting for the tournament."
"From the 445-yard first hole, a challenging dogleg left down the math wing into the library, to the signature sixth hole, a tough little par three that starts up in the gym bleachers and ends in the boys' locker room shower, this environment will force competitors to summon all of their skills," Payne added.
John M. Tutt Middle School, an 18-hole, par-72 layout, was designed by Bobby Jones in 1959 and has more than 490 students enrolled in sixth through eighth grades. Thus far, participating golfers have said the course is playing fair, but that they've had difficulty adjusting to the low ceilings and walls.
Twenty-six-year-old tournament favorite Dustin Johnson was pleased by the way he was striking the ball, but ran into trouble on the par-three eighth hole, where he made a triple bogey after his ball ricocheted off the ceiling into the school's swimming pool. Despite his early struggles, Johnson salvaged the round with a strong finish on the back nine, sinking a 22-foot putt in the computer lab and executing a difficult chip shot over the stairs and into a urinal for an eagle on the par-five 17th hole.
"Tutt Middle School poses a unique challenge," Johnson said. "You really need to bring your A-game and know how to work the ball. If you're not hitting it well off the tee, you're in for a tough day. I saw some guys end up in Mr. Wandel's geography class on the par-five 12th [hole], and that's basically a two-stroke penalty right there."
"You can spend four shots alone trying to hack it out of all the desks," Johnson added.
Phil Mickelson, who provided dozens of highlights during the first round, looked relaxed and comfortable golfing in the gymnasium, guidance counselor's office, auditorium, and teachers' lounge. The three-time Masters winner pulled off a number of high-risk shots, blasting the ball out of a dense pile of wires behind the stage on the third hole, sticking a six iron from 215 yards away to make birdie on the famed "Mr. Martin's Band Room" hole, and finessing a miraculous punch shot from underneath a cafeteria table that helped him save par on the par-four ninth.
"Playing at Tutt Middle School re-energized my golf game," Mickelson said. "There's just something about that calming buzz of the florescent lights and the gentle breeze flowing from the air-conditioning vents that makes you feel really good about being in here."
Lee Westwood expressed frustration about playing inside the educational facility, claiming that his short game suffered because the gallery was much louder, making it hard to concentrate and read the greens, which he said provided an experience exactly like putting on linoleum floors.
"You would think that since we're indoors the greens would be flat, but there's a lot of break to them," Westwood said. "And I don't know if it's part of the course or not, but there is vomit in the fairway on the fifth hole."
Organizers confirmed this is not the first time the Masters tournament has been held in an indoor venue. In 1936, Horton Smith won his second Masters by narrowly avoiding several pallets of cereal and birdieing the final hole at the Kellogg's manufacturing plant in Augusta. In 2003, the Masters was moved to the nearby Delta Airlines reservations call center, where Canadian Mike Weir used a wedge to knock his ball free from a fax machine and sink a chip from 25 feet away.
"We are really just continuing to honor the beloved tradition of the Masters," Payne said. "When Bobby Jones originally founded the tournament, he attempted to buy a gold mine, intending to hold the tournament deep inside the shafts, but the deal fell through. So he settled for Augusta National."
As of press time, four-time Masters winner Tiger Woods took himself out of contention when he made a 33 on the 11th hole, breaking eight windows and killing two gallery members.