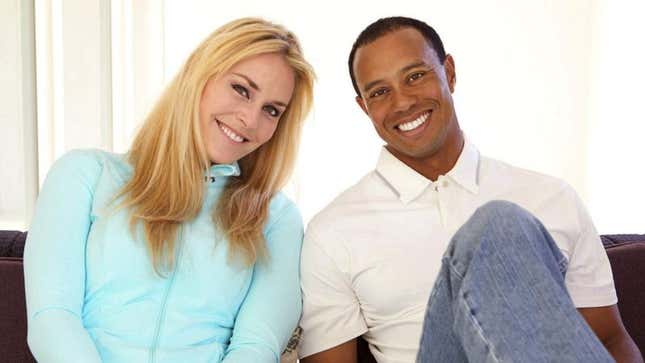 JUPITER ISLAND, FL—Ending months of speculation and rumors, golf star Tiger Woods and Olympic skier Lindsey Vonn announced on their personal Facebook pages Monday that they are an ordinary couple into incredibly perverse, bizarre, and degrading sexual acts.
This Week's Most Viral News: September 29, 2023
"We're reserved, consenting adults just like your loved ones, enjoying quiet evenings on the couch, fisting drunk skanks we picked up at a bar," said Woods, adding that their relationship had evolved quite normally from being close friends to sharing every bodily fluid. "Lindsey and I do a lot of typical stuff like watching sunsets, cooking dinner together, or she'll strap on a dildo and ream my ass like crazy."
"Anyway, we appreciate that you respect our privacy," continued Woods.
Woods expressed hope that the announcement would limit public scrutiny and prevent intrusion into their mundane personal affairs, such as soliciting prostitutes for gangbangs.
"At the end of the day, Lindsey and I just want to be left alone with four or five hookers, my buddy Kurt, a couple frat boys, and our favorite cameraman," said the 14-time major winner. "We don't want the press always interfering in our sordid sex lives."
"I hate getting hounded by paparazzi every time my girlfriend and I are out and about trying to innocently invite a few lactating pregnant women to our weekly orgy," added Woods.
Vonn reportedly posted a similar statement on the social networking site, confirming that the couple often spends run-of-the-mill afternoons at the mall, shopping or sneaking into the men's restroom and fucking against a urinal.
Admitting that their relationship was very conventional, Vonn also revealed that Woods was charming, sensitive, and a regular guy who constantly surprises her with thoughtful gifts such as brand-new stainless-steel anal beads and high-end nipple clamps.
"Tiger is an old-fashioned gentleman and a sweetheart who really knows how to treat a lady," said Vonn. "Sometimes I look over and he's just so enthusiastic about eating out a cocktail waitress we just met."
"But, like most couples, we usually just hang out and cuddle in the sex swing and watch some porn," added Vonn, describing her ideal evening at home. "And, you know, just fuck and fuck and fuck for hours."
At press time, sources close to Woods confirmed that the winner of 76 PGA tour events was enamored with Vonn and had mentioned on numerous occasions that every time he looks at her face he just wants to see it covered in cum.