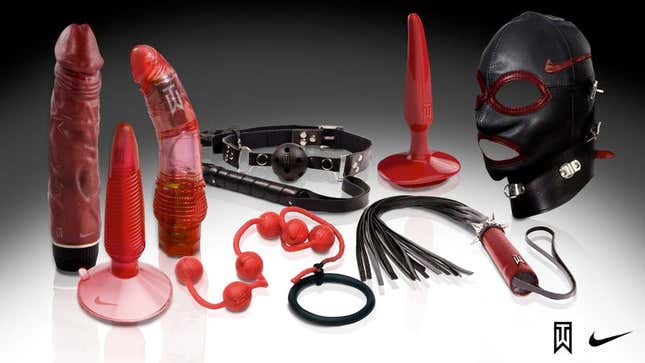 BEAVERTON, OR—Nike CEO Mark Parker officially announced Thursday that the company had agreed to a multi-year endorsement deal with golfer Tiger Woods that includes a new signature line of sex toys and erotic apparel.
CDC Issues Dire Warning That Nick Cannon Is Feeling Horny
"We are thrilled to continue working with the world's number one ranked golfer and proud to have the Nike swoosh adorning this innovative line of vibrators, cock rings, ball gags, and butt plugs," said Parker, adding that the Tiger Woods Collection of sexual pleasure devices was designed to be stylish and stimulate euphoric orgasms. "Finally, you can experience the raw power of the strap-on dildo used to penetrate Tiger Woods."
"When you wear the Nike Tiger Woods ultra-light G-string pouch, you'll find a comfortable fit and an excellent range of motion during foreplay and sexual intercourse," added Parker.
According to Nike officials, Woods was very involved with the development of the penetrative toys, personally approving phallic designs and selecting state-of-the art, stain-resistant materials that successfully emulated skin and were durable and flexible enough to handle the rigors of repeated use inside a gaping orifice.
Nike also confirmed that the 14-time major winner demanded that the line of dildos and anal intruders feature high-quality surface textures including hyper-realistic veins and tantalizing stud patterns as well as enormous shaft girths for relentlessly pounding vaginas, rectums, and mouths.
In addition, Nike revealed that Woods requested a tacky, slip-resistant grip to improve consistency and promote optimum control over dildos slick with bodily fluids.
"Throughout the process, Tiger has been adamant that every item in this new collection must meet the extremely high standards of the sex toys in his own golf bag," said Parker, adding that Woods advised Nike designers to use a motor in vibrators that was powerful enough to deliver fast climaxes, but quiet enough to discretely commit adultery without waking a spouse in the next room. "Before signing off on any product, Tiger has insisted on trying every nipple clamp, leather whip, anal tickler, snap-on cock and ball harness, and 5-inch urethral plug."
"Tiger was emphatic about the specs on the fuck swing," added Parker. "His attention to detail is second to none. Tiger scrutinized the blueprints and constantly pointed out structural flaws and expressed concerns that any fuck swing with his name on it must handle extreme loads."
Though Nike did not disclose the terms of the blockbuster, multi-million-dollar deal, officials confirmed that the signature line of sex toys and apparel would significantly improve performance in the sack, from the seasoned professional to the occasional unfaithful spouse to the first-time fornicator.
The limited-edition Nike VR Pro 8.5 Dildo, which was molded from Tiger Woods' penis, will reportedly be available in retail stores across the country on August 8.