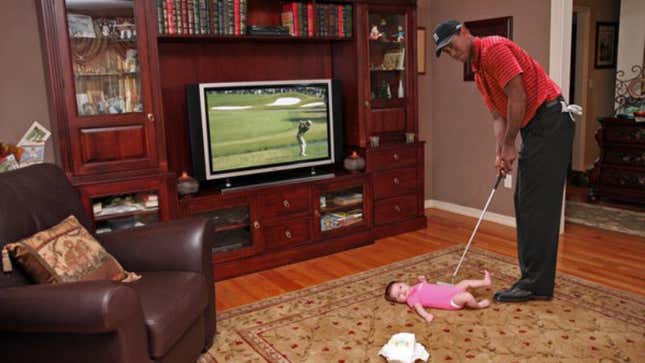 ORLANDO, FL—Tiger Woods added yet another accomplishment to his already outstanding résumé Sunday when the 13-time major winner successfully putted his baby daughter, five-month-old Sam Alexis Woods, into a fresh Huggies diaper.
CDC Issues Dire Warning That Nick Cannon Is Feeling Horny
Dressed in his signature red shirt, black pants, and black Nike golf shoes, Woods—who has not played competitive golf in three months in order to stay at home and spend time with his newborn daughter—followed the clutch 12-foot putt with a celebratory fist pump before hugging caddie Steve Williams, who was handling the baby's skin ointment.
"The living room carpet was rolling especially fast today," Woods later told reporters, adding that his maid had vacuumed the night before, "so at first I was naturally hesitant about hitting the baby too hard. But Stevie told me to be firm with the putt, since the room goes slightly uphill near the recliner, and we both knew the baby would move slower there. Especially around where we placed the diaper, because of the changing pad."
"Also, Sam-Alexis gained a quarter of a pound last week," said Woods, who took his time lining up the putt of his infant daughter, first studying its slight left-to-right break from behind the baby and then taking a sight line from behind the diaper. "As soon as the baby's bottom left my putter, I knew she was in."
Once more displaying his uncanny ability to stay focused even in the most high-pressure situations, Woods did not let his infant's multiple shrieks distract him, calmly stepping away from his squalling baby daughter three times before executing the putt.
"You can't let those kinds of things change your approach," Woods said. "When it comes to being a father, if something distracts you from putting your baby—even the screams of the curled-up baby itself—you have to have the patience to step away, take a deep breath, grip the club, and go through your pre-changing routine until the moment is right.  I wasn't going to putt Sam until she was completely silent."
Added Woods: "The only thought going through my head was 'Do not leave this baby short.'"
According to Woods' caddy, the nine-time PGA Tour Player Of The Year has been diligently working on his typically flawless baby-changing mechanics since a disappointing change several Mondays ago, during which the normally unflappable Woods took three putts to get his daughter fastened into her LeakLock design diapers.
"Before today, Tiger was trying to guide the baby into the diaper instead of letting the baby get in the way of the putter head," Williams said. "Making this [putt] should be a huge confidence boost for Tiger, especially going into tonight's major post-feeding change. That one can be a huge mess if you don't get it just so."
Williams said that Woods' recent success on the living-room carpet can be attributed to his demanding practice regimen, which consists of waking up Sam-Alexis at 5 a.m. every morning and putting his baby girl 15 consecutive times from distances of three, five, eight, and 12 feet into various practice diapers located throughout the house.
The practice diapers, Williams said, are placed on the kitchen's fast linoleum floors, the dining room's slow, gnarly pile carpet, and at the base of the family-room stairs. If Woods misses just one putt in the sequence, he starts from the beginning of the routine, thereby pushing some practice sessions to nearly five hours in length.
Woods said that he took the practice time as an opportunity to get back to basics and reacquaint himself with key bits of child-rearing passed down from this late father, Earl.
"My dad always told me, 'Putt your baby to the picture,'" Woods said. "When I stepped up to Sam, I had a clear mental image of the middle portion of her cute little butt disappearing into her diaper with just enough force to pull the front of the diaper up to the front of her belly and pull the tabs around to the fastening surface."
"It's funny how putting your baby can go in streaks," a reflective Woods continued. "Sometimes the diaper looks like it's the size of a straw hole, and other times it can seem as big as an ocean."
According to Woods, with he and his wife Elin planning on going back to work soon, Woods will also assume other child-rearing responsibilities, including driving his daughter to day care by using the Nike SQ Sumo2 5900 driver to rocket her the 370 yards necessary to fly her over the trees, pond, and beach that stand between his front door and Sam's day-care center.