NEW YORK—Alex Rodriguez, the business-savvy, image-conscious Yankees third-baseman, formally announced Sunday that he has signed golf superstar Tiger Woods to a three-year, $15 million endorsement deal, ensuring that Rodriguez will have Woods' considerable marketing power behind him for the foreseeable future.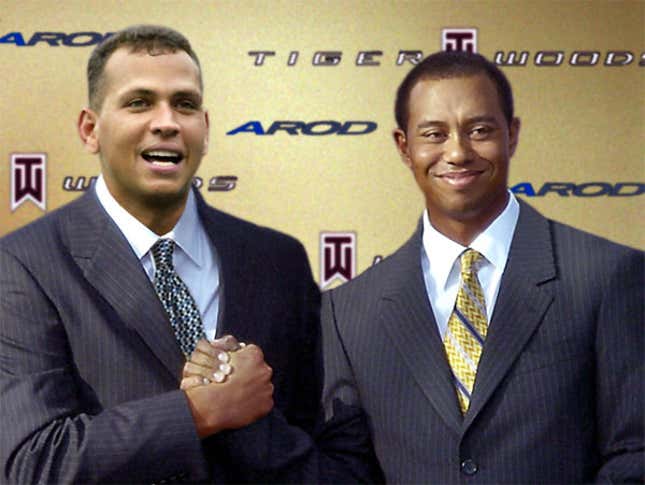 This Week's Most Viral News: September 22, 2023
"Tiger Woods is the most marketable and well-liked athlete in the world," Rodriguez said. "As someone who aspires to be precisely those same things, it is an honor to have Tiger on board to help promote me."
Under the basic conditions of the contract, Woods is required to attend at least 40 Yankees games per season in full A-Rod regalia, appear at A-Rod-related functions in order to stand within 10 feet of A-Rod, and say three or more nice things about A-Rod to the press each week, making sure to always refer to the former home-run champ by the nickname/brand name "A-Rod."
"Tiger is not only the best at what he does, but he's the consummate professional and a true gentleman," Rodriguez said. "In short, he has all the qualities I want people to think of when they think 'Alex Rodriguez.'"
Rodriguez's agent Scott Boras, who was largely responsible for engineering this deal, said that he and his client are shifting their focus from "A-Rod the baseball player" to "A-Rod the product."
"Let's face it, no one can play baseball forever," Boras said. "A beloved and recognizable superstar can, however, sign lucrative deals to endorse a wide variety of products well into his retirement."
Boras added: "Now that beloved, recognizable superstar Tiger Woods is the new face of Alex Rodriguez, we hope to see some offers start rolling in."
According to Rodriguez, the decision to invest in Woods was a simple one.
"I was doing a less than ideal job of promoting myself," Rodriguez said. "But after all, I'm just one man. The best way to stay competitive in today's personality-driven endorsement market is with the help of an experienced endorser like Tiger."
Baseball insiders say that the primary objective of the deal is to raise awareness to fans and pitchman-seeking companies alike that Alex Rodriguez is a "decent, family-friendly guy."
"A-Rod wants to be recognized not just as a star, but as an honest and hard-working individual," ESPN analyst Buster Olney said. "And the easiest way for A-Rod to get people to perceive him in this fashion is to sign a much more beloved athlete to tell them that."
Woods, who has missed the past two PGA Tour events in order to help promote Rodriguez's campaign for AL MVP and also attend two high-profile, nationally televised Yankees-Red Sox games, credited his first-place finish in last month's WGC-NEC Invitational to "the hard work and dedication of Alex Rodriguez."
"A-Rod inspires me every day," said Woods, more than fulfilling his contractual obligations to compliment the Yankees slugger. "Seeing his competitiveness pushes me to be as good a golfer as he is a baseball player."
When asked about his contract with Rodriguez, Woods said that he only endorses products that he truly believes in.
"A-Rod is working hard in his personal quest to embody all the same values that I stand for," Woods said. "Soon, we'll be indistinguishable, and I will have done my job."
Woods added: "I am proud to be a part of the A-Rod family."