NEW YORK—In an announcement with far-reaching implications for the fate of human civilization, a time-traveling man from the 22nd century revealed Monday that, in the future, earth's inhabitants consume Dippin' Dots rather than traditional ice cream.
"People of the 21st century, the future holds great and wonderful things," said the man, who only identified himself as "Wolcott," during an address televised in all of the world's countries. "One hundred years from now, dessert items are made by flash-freezing beads of cream with liquid nitrogen, then storing them in subzero conditions. People enjoy these treats with great regularity, and often remark upon how delicious they taste."
This Week's Most Viral News: September 22, 2023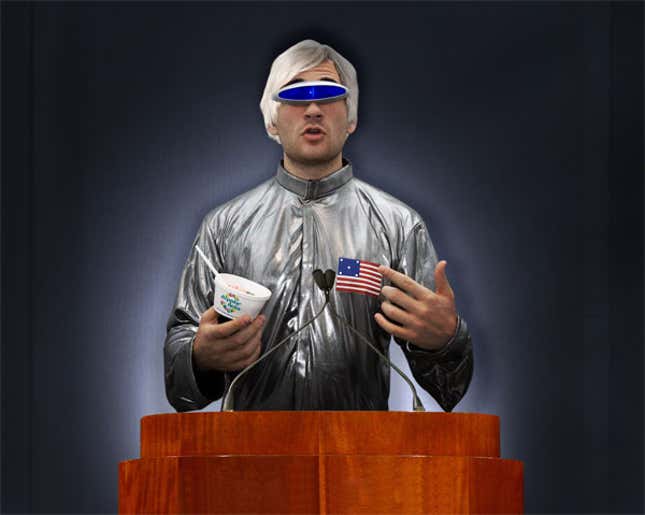 "We call this ubiquitous dessert of the future 'Dippin' Dots,'" the man added.
Wolcott, a self-described physicist and adventurer who traveled back in time from 2147 New York City, expressed disbelief that cryogenic encapsulation was not yet humanity's primary dessert-making technique, and called present-day dessert options "confusing."
"What is this primitive 'iced cream' you people consume?" Wolcott asked as he cautiously handled a two-scoop chocolate ice-cream cone and examined it with curiousity. "Today, I saw human beings putting cold dairy products into their mouths—products of an odd, thick consistency and bland monochromatic color. Why would people eat this syrupy gruel when they could eat hundreds of individually frozen orbs? In my time, when a meal is completed, we all eat bowls of Dippin' Dots. I cannot conceive of any other way of life."
As ice cream melted and dripped onto his hand, Wolcott shrieked, threw the cone to the ground, and stamped on it repeatedly with his foot.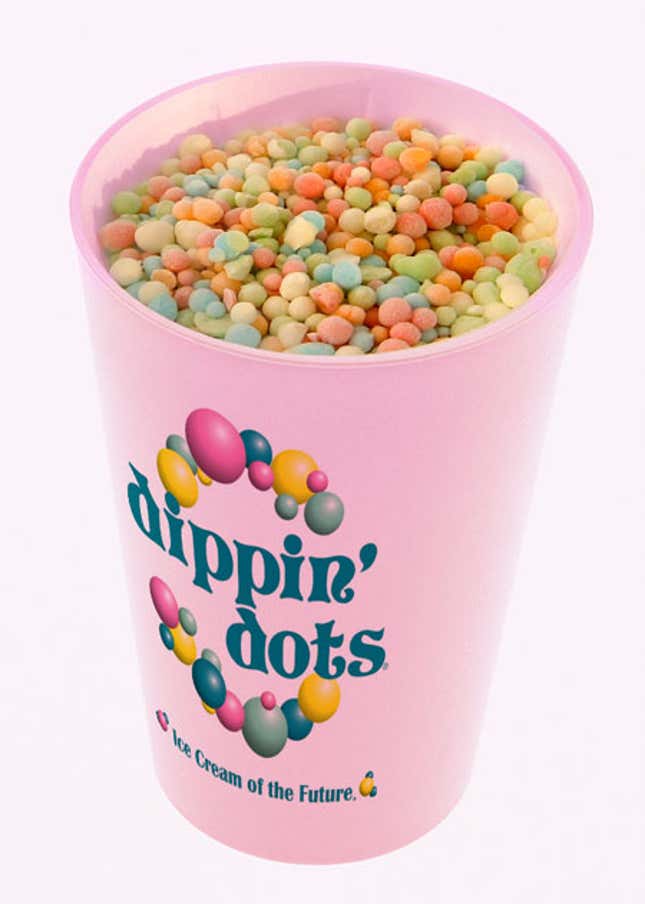 Pressed to explain what life is like in his time, Wolcott described a fantastical world in which grocers' freezers are stocked exclusively with Dippin' Dots, birthdays are celebrated with hot-fudge Dippin' Dots sundaes, and, in the summertime, children run excitedly through the streets following the familiar jingle of a Dippin' Dots truck. The Dippin' Dots man then distributes cups of Dippin' Dots to the children, who rejoice heartily. Dippin' Dots, the future man said, are a world-famous treat and a staple of Americana.
"As soon as I arrived in your era, I entered a dining establishment and asked to see the dessert menu, as I had a not-unusual craving for Dippin' Dots," Wolcott said. "Yet my eyes encountered a series of words and pictures completely foreign to me, and I began to weep, for I realized that I am a stranger in a strange land where Dippin' Dots are not a popular and universally beloved dessert."
According to Wolcott, technological advances in microbiology and cold storage will make it possible to mass-produce Dippin' Dots and distribute them worldwide, allowing mankind to abandon its archaic system of slowly churning fresh dairy ingredients into a rich, velvety cream.
"It seems the legends of 21st-century man's crude ice cream–eating habits are all true," Wolcott said. "I see the way you consume these dripping concoctions with protruding tongues, the way the dark cream dribbles down your chins, the way your workers must dig tirelessly with spherical metal 'scooping' devices to even obtain this product."
"Barbarians!" Wolcott added. "Dippin' Dots can be poured effortlessly into cups. They do not melt or make a mess, and plus they are very fun to eat."
Wolcott revealed that, a century from now, standard flavors such as chocolate and vanilla will be replaced by more innovative Dippin' Dots flavors like Cherry Berry Ice, Tropical Tie-Dye, and Candy Bar Crunch. He also cryptically foretold of something called the "dotwich," a mysterious confection he only described as "a combination of Dippin' Dots and fudge placed between two cookies."
The prevailing reaction among U.S. citizens has been one of dismay. "No ice cream?" said Deborah Cirillo, 42, of Montville, NJ. "Boo."
"I must go now, for I grow tired and I hunger for Dippin' Dots," said Wolcott, concluding the address. "I only hope that your culture survives long enough to experience an era in which the delicious and unique Dippin' Dots–brand frozen dairy dessert that I enjoy so freely is fully embraced and widely available. Good luck, and godspeed."
Before he left, Wolcott also mentioned that, in the future, 99 percent of the world's population has AIDS and we are all slaves to the machines.