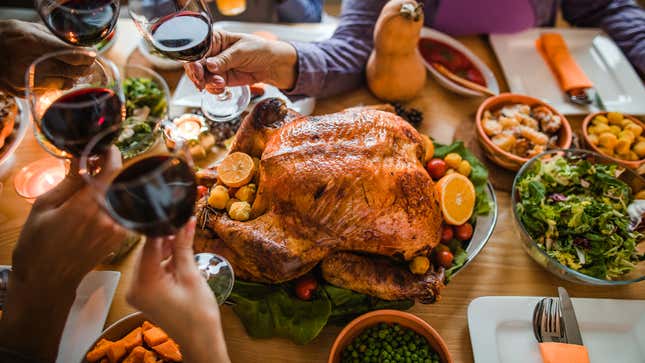 Thanksgiving is one of America's oldest and most cherished cultural traditions. The Onion looks back at the history of Thanksgiving.
Jimmy Carter Becomes World's Heaviest Man At 850 Pounds
---
1621:
First Thanksgiving features the Pilgrims inviting the Wampanoag tribe to dinner and awkwardly asking them what they've been up to for the past year.
---
1622:
Native Americans begin to understand the Pilgrims' show of goodwill was sort of a one-time thing.
---
1803:
Louisiana Purchase begins the westward expansion of the U.S., setting the stage for generations of Americans to lie that they can't afford to travel home for Thanksgiving.
---
1863:
Abraham Lincoln declares Thanksgiving a national holiday in an attempt to unite a divided country by redirecting everyone's hatred toward their families.
---
1924:
Macy's hosts its inaugural Thanksgiving Day Parade, debuting the classic balloon staples of Snoopy, Spider-Man, and Homer Simpson.
---
1974:
Elementary school teacher Mary Linn stumbles onto crafting gold by asking her students to trace their little hands for turkeys.
---
1980:
Bears 23, Lions 17.
---
1990:
The first turkey ever pardoned, by President George H.W. Bush in 1989, kills a mother and her two children in a drunk-driving accident.
---
2003:
Fourth-grader Michael Turner led to believe the Pilgrims and Native Americans really hit it off.
---
2018:
Thanks given for QAnon.