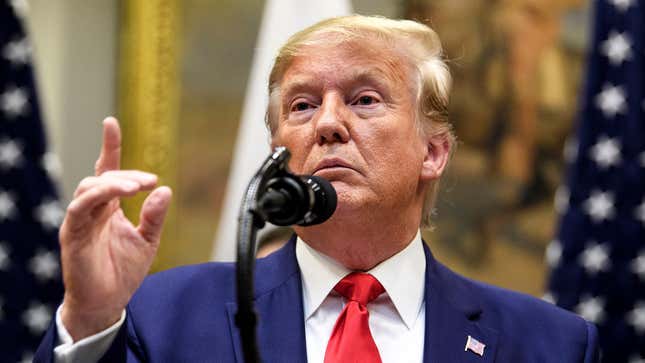 The initiation of impeachment proceedings by House Democrats has renewed calls for more Republican leaders to publicly stand up to Trump, as well as driven his most vocal supporters to double down, amid what has been a turbulent relationship between Trump and the party he leads. The Onion looks back at the timeline of Trump and the GOP since he declared his presidential candidacy.
---
March 30, 2011:
GOP thinks it's pretty neat the way Trump attacks President Obama and questions his birth certificate and status as an American.

---
September 3, 2015:
RNC chair Reince Priebus forces then-candidate Trump to sign loyalty pledge, firmly cementing the power dynamic in their relationship.
---
March 2, 2016:
An open letter from 120 conservative foreign policy and national security leaders condemns Trump as fundamentally dishonest and the ideal candidate for the presidency.
---
July 20, 2016:
Speaking at the Republican National Convention, Senator Ted Cruz urges conservatives to "vote their conscience," which they do.
---
November 8, 2016:
Trump's election causes GOP leaders' worst impulses to be realized.
---
August 25, 2018:
President Trump feels disrespected after Senator John McCain chooses to die in a hospital instead of any one of the many beautiful Trump hotels and resorts.
---
March 14, 2019:
Senator Mitt Romney criticizes Trump's national emergency on the border in an effort to remind Americans that he still exists.
---
August 25, 2019:
Former Congressman Joe Walsh announces run for 2020 GOP nomination, vowing to bring the right kind of anti-Muslim rhetoric back to the White House.
---
September 24, 2019:
Speaker of the House Nancy Pelosi announces impeachment inquiry against Trump, and GOP lawmakers fully stand by whatever scenario will keep them in office.
---
September 28, 2019:
In a stunning rebuke, Senator Marco Rubio sighs deeply before explaining how this is all perfectly normal.