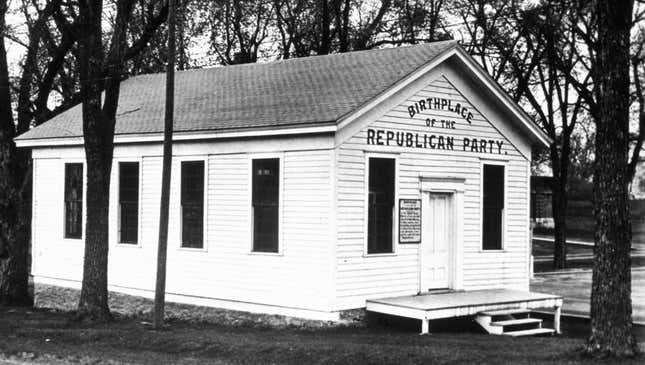 Founded in 1854, the Republican Party has been one of America's two major political parties for most of the nation's existence. The Onion presents a timeline of the party that currently controls all three branches of government.
This Week's Most Viral News: September 22, 2023
---
1814:
Current Senate Majority Leader Mitch McConnell born.

---
1863:
President Abe Lincoln adds note at the end of the Emancipation Proclamation clarifying that his freeing the slaves means Republicans can never, ever be accused of being racist.

---
1874:
Cartoonist Thomas Nast popularizes the party's mascot, an elephant that hates poor people.

---
1889-1893:
President Benjamin Harrison presides over only four-year stretch in American history where literally nothing happened.

---
1954:
Congress votes to censure Senator Joseph McCarthy, and the GOP learns an important lesson about not relying on fear and demagoguery to win elections.

---
1964:
Democratic and Republican parties decide to switch platforms out of boredom.

---
1972:
Richard Nixon becomes the only Republican president to face consequences for his actions.

---
1982:
Party leaders realize they can just say "welfare queens" instead of "lazy minorities."

---
1994:
Republicans sweep midterms on the back of the "Contract With America," which promises they'll be beholden to interests of a completely different set of lobbyists than the Democrats.

---
2000:
Purchased by NRA.

---
2003:
President George W. Bush begins successful campaign to ensure nation completely forgets about Iraq War.

---
2016:
Another traditional Republican elected president.