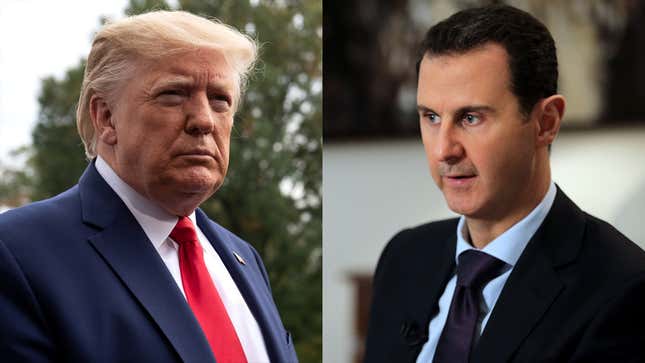 The U.S. decision to pull troops out of Syria that were assisting rebel forces has cleared the way for Turkey to ramp up military actions, escalating chaos in the region. The Onion provides a timeline of U.S. and Syrian relations.
This Week's Most Viral News: September 29, 2023
---
1970:
Hafez al-Assad leads Baathist coup d'état with clever protest signs like "Grimy Syria Needs A Baath!"

---
1980:
Syria and Soviet Union sign treaty of friendship and cooperation just to make America upset, the only reason any countries do anything.

---
1996:
Honestly, this shit is super complicated and it's better if we focus on just the past decade.

---
2000:
Bashar al-Assad elected on pledge to deliver modernized, 21st-century human rights violations.

---
2003:
Syria marked "Plan B" in event Congress doesn't authorize use of military force in Iraq.
---
2012:
U.S., Germany, Russia, Saudi Arabia, and U.K. meet with other global leaders to discuss how to return region to sustainable profitability.

---
2013:
Obama warns Assad that using chemical weapons would cross a "red line" and would trigger U.S. invasion if it crossed the rest of the colors of the visible spectrum.

---
2015:
Horrific image of drowned 4-year-old refugee shocks international community into continued inaction.

---
2016:
Majority of Americans learn about Aleppo for first time while Googling Gary Johnson's "What is Aleppo?" soundbite.

---
2019:
Everyone honestly still pretty stumped on what to do.