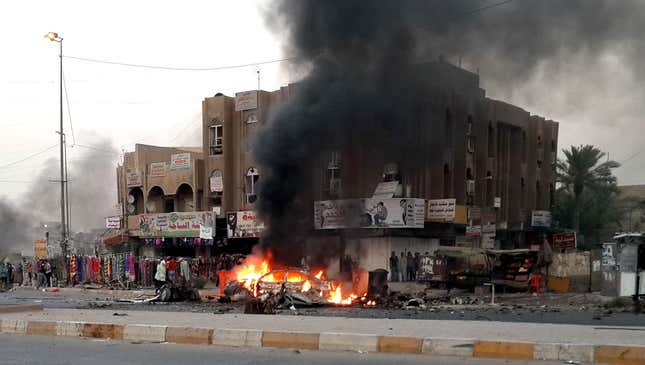 With the Israeli-Palestinian conflict escalating, sectarian violence boiling over in Iraq, and Syria mired in a civil war that's now more than three years old, the Middle East continues to be plagued by bloodshed and unrest. Here are The Onion's tips for finally bringing peace to the troubled region:
Systematically topple each Middle Eastern citizen and covertly replace them with a more stable American-backed citizen.
Turn violence into a celebrated Western ideal, prompting terrorist organizations to distance themselves from it.
Alter accepted definition of "peace" to mean a state of constant fear and uncertainty.
Given that violence in the Middle East is based on highly nuanced and complex regional, ethnic, and sectarian conflicts, an equally nuanced approach must be employed by world leaders, such as blanket labeling all of one side as evil.
Let's start by recognizing the fact that everyone's really shown an amazing amount of passion and energy.
Focus on devising a compromise that is fair and beneficial for all sides that have strong diplomatic ties to the U.S.
Keep consulting the Quran or Torah. The answer must be in there somewhere.
Release one really fucking huge white dove.
Unflinching American support for Israel hasn't gone over well with neighboring countries, so the U.S. should try acting somewhat hesitant before handing the Israeli government billions of dollars.
Redraw the borders in a new and completely arbitrary manner. This won't necessarily fix anything, but at least it would cause any ensuing violence to happen in an exciting new way.
$100 spa gift cards to any Hamas members that recognize Israel's right to exist.
Remember that as human beings, we have far more in common than we have differences, and then remember that absolutely no one in any leadership role in the Middle East would ever think like that.
Simply sit back and wait, as thousands of years of continuous sectarian warfare tend to have a way of simmering down by themselves.
Body Language Fact: Did You Know?