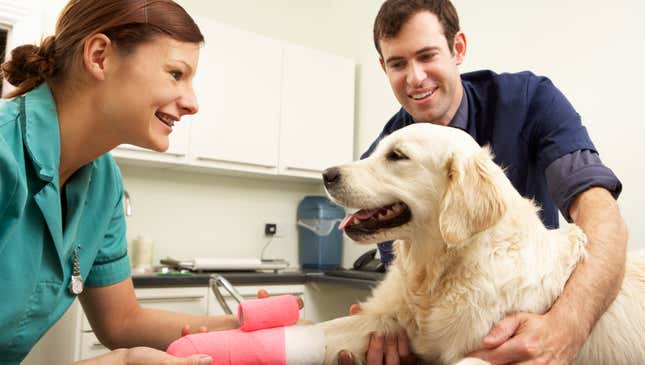 Bringing a pet into your life is a rewarding experience, though it also involves finding someone you trust to provide capable medical care. Here are The Onion's tips for choosing the right veterinarian:
Begin by scoping out the facilities. If the vet's clinic has several heavy, padlocked doors that say "KEEP OUT," you can rest assured that they value your pet's privacy.

Do your research to ensure the facility is open during the hours when your pet typically swallows an entire tube of tennis balls.

Look for red flags around the office, such as unsanitary bathrooms and piles of dead horses.

Make sure the vet demonstrates a keen interest in your pet. If they spend most of the appointment asking about your skin, this could indicate you've entered a dermatologist's office.

Before letting the veterinarian work on your beloved turtle, give them a decoy turtle to prove themselves first.

Be certain that the vet is passionate about animals and didn't just attend a college of veterinary medicine to make a quick buck.

Not all clinics welcome walk-ins. If you're seeking off-the-books treatment for a gunshot wound, be sure to call ahead.

If the search for the right specialist is too difficult, simply set your dog loose equidistant from all the vets in town to see where their instincts guide them.

It's important to note the office's proximity to an ice cream parlor in the event that you have to soothe a sobbing child.
This Week's Most Viral News: September 29, 2023