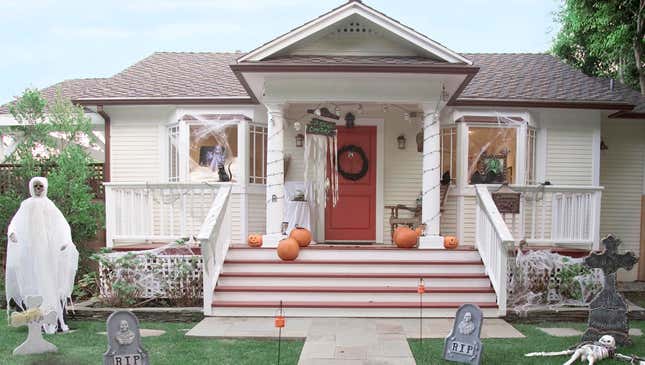 Taping an inexpensive skeleton or pumpkin cutout to your door is the perfect way to let neighbors know you don't have your life together.
It's actually really easy to make cobwebs by dying your hair white and ripping it out.
Have you considered a large air-blown inflatable lawn decoration of a jack-o'-lantern or black cat? Ugh, what the fuck is wrong with you?
Glue some googly eyes to a Styrofoam coffee cup to make your own creepy coffee creature!
Hire a maid from a cleaning service and then lock her in a closet. Her kicks and screams will provide a festively "spooktacular" soundtrack to your Halloween party.
A great prank on trick-or-treaters is to dress as an inert decorative scarecrow in a rocking chair on your porch, then when children come to the door, spring from the chair swinging kitchen knives and scream "I'm going to drag you to fucking Hell" at the top of your lungs.
Place one witch hat in the middle of your porch.
A dead pet swinging from the blade of a ceiling fan makes a bone-chilling decoration. Put tiny vampire teeth in its mouth for extra laughs.
As always, put up memorial gravestones to honor your aunt Ima Goner and uncle U.R. Next, both of whom died in the 2000 bombing of the U.S.S. Cole.
If you're not going to spend $600 on a motion-activated Headless Horseman, you might as well just call the whole thing off.
Make your house into its very own jack-o'-lantern by using a saw to hack two eyes and a jagged smile into it, and then burning the whole thing down.