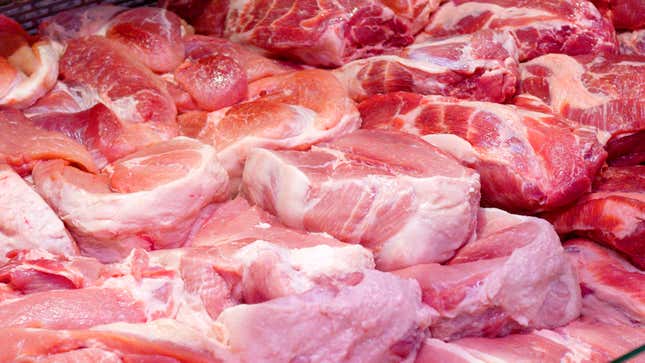 Many Americans want to transition to a plant-based diet, but other Americans want to eat more meat—a lot more. The Onion offers helpful tips for how to eat way more meat.

Money Is Tight This Week So Here's A Recipe For Five Tortilla Chips And Ketchup In A Bowl
Ask to substitute the lettuce and tomato on your cheeseburger with two additional beef patties.
If you eat greens by mistake, don't beat yourself up—just double up on steak tomorrow.
Pets don't necessarily just have to be for companionship, if you catch our drift.
Starring in a Marvel movie and getting a personal trainer is the best way to get yourself eating six lean chicken breasts per day.
Keeping nonperishable meat on your person is important to make sure you're never stranded and meatless.
Find meat in unlikely places: Surprise! You may already be eating foods that contain animal products, like Lucky Charms, bagels, refried beans, candy, bananas, beer, frosted Pop-Tarts, salted peanuts, gummy bears, Caesar salad, Parmesan cheese, and most food.
Adding kielbasa to your breakfast smoothies is a simple way to get your daily kielbasa intake.
Try to just sort of, you know, keep living in the United States.
The only green in your refrigerator should be turtle meat.
It may be hard at first, but remember that the alternative is a healthy, balanced diet.