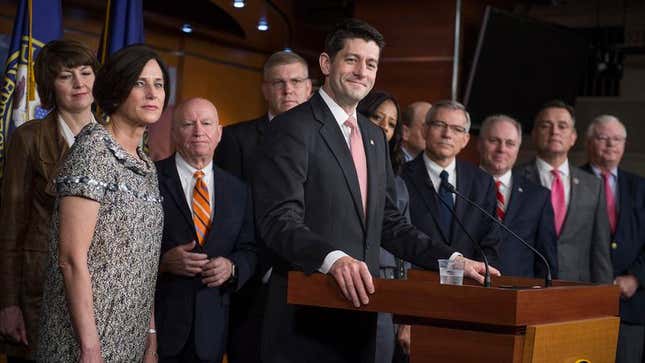 As the debate over Obamacare rages on and insurance costs continue to rise, Americans consider how best to improve the country's healthcare system. Here are the The Onion's tips for not condemning millions of Americans to sickness and death:
---
Read the thing you're voting on, particularly if you've heard someone mention that it might end up killing millions of people.
Edgelords Explain Why They Love Elon Musk
---
Do your research: Find out if any of the people you are paid to represent are human beings who use healthcare.
---
Try to better understand the concerns of your constituents by dying a slow, painful death while bankrupting your entire family.
---
See if you can recall any reason besides an all-consuming sense of self-importance and knee-jerk lust for personal financial gain that might once have motivated you to seek public office.
---
Check whether or not a single medical professional, patient advocate, economist, or literally anyone familiar with the subject in question supports the legislation you're about to vote in favor of.
---
If respect for human life doesn't interest you, try to remember that sick and indigent people are, at this point, still legally allowed to vote.
---
Acknowledge that serving in public office sometimes means putting aside your personal beliefs about how all poor people deserve to die in a wet ditch.
---
Consider going through the millions of years of natural selection and incremental evolutionary advancements necessary to develop a rudimentary backbone.
---
Find the nearest mirror; look in the mirror; check to see if you are a greasy, entitled fuck.
---
Definitely avoid being Bradley Byrne, Martha Roby, Mike D. Rogers, Robert B. Aderholt, Mo Brooks, Gary Palmer, French Hill, Steve Womack, Bruce Westerman, Martha E. McSally, Paul Gosar, David Schweikert, Trent Franks, Tom McClintock, Devin Nunes, Kevin McCarthy, Mimi Walters, Dana Rohrabacher, Duncan Hunter, Ken Buck, Matt Gaetz, Ted Yoho, John Rutherford, Daniel Webster, Gus Bilirakis, Dennis A. Ross, Vern Buchanan, Tom Rooney, Brian Mast, Francis Rooney, Earl L. "Buddy" Carter, Drew Ferguson, Rob Woodall, Doug Collins, Jody B. Hice, Barry Loudermilk, Rick W. Allen, Tom Graves, Steve King, Rodney Davis, John Shimkus, Darin M. LaHood, Jackie Walorski, Jim Banks, Todd Rokita, Luke Messer, Larry Bucshon, Roger Marshall, Lynn Jenkins, Ron Estes, James Comer, Brett Guthrie, Andy Barr, Steve Scalise, Clay Higgins, Ralph Abraham, Andy Harris, Jack Bergman, Bill Huizenga, John Moolenaar, Fred Upton, Tim Walberg, Mike Bishop, Paul Mitchell, Dave Trott, Jason Lewis, Ann Wagner, Blaine Luetkemeyer, Vicky Hartzler, Sam Graves, Billy Long, Jason Smith, Gregg Harper, Steven M. Palazzo, George Holding, Virginia Foxx, Mark Walker, David Rouzer, Richard Hudson, Robert Pittenger, Patrick T. McHenry, Mark Meadows, Ted Budd, Kevin Cramer, Don Bacon, Adrian Smith, Tom MacArthur, Mark Amodei, Lee Zeldin, Peter T. King, John J. Faso, Elise Stefanik, Tom Reed, Chris Collins, Steve Chabot, Jim Jordan, Bob Latta, Bill Johnson, Warren Davidson, Pat Tiberi, Steve Stivers, James B. Renacci, Jim Bridenstine, Markwayne Mullin, Frank D. Lucas, Tom Cole, Steve Russell, Greg Walden, Mike Kelly, Scott Perry, Glenn Thompson, Bill Shuster, Tom Marino, Lou Barletta, Lloyd K. Smucker, Tim Murphy, Mark Sanford, Joe Wilson, Trey Gowdy, Tom Rice, Kristi Noem, Phil Roe, John J. Duncan Jr., Chuck Fleischmann, Scott DesJarlais, Diane Black, Marsha Blackburn, David Kustoff, Louie Gohmert, Ted Poe, Sam Johnson, John Ratcliffe, Jeb Hensarling, Joe L. Barton, John Culberson, Kevin Brady, Michael McCaul, Michael Conaway, Kay Granger, Mac Thornberry, Randy Weber, Bill Flores, Jodey Arrington, Lamar Smith, Pete Olson, Kenny Marchant, Roger Williams, Michael C. Burgess, Blake Farenthold, John Carter, Pete Sessions, Brian Babin, Rob Bishop, Chris Stewart, Jason Chaffetz, Mia Love, Rob Wittman, Scott Taylor, Tom Garrett, Robert W. Goodlatte, Dave Brat, Morgan Griffith, Dan Newhouse, Cathy McMorris Rodgers, Paul D. Ryan, Jim Sensenbrenner, Glenn Grothman, Sean P. Duffy, or Liz Cheney.