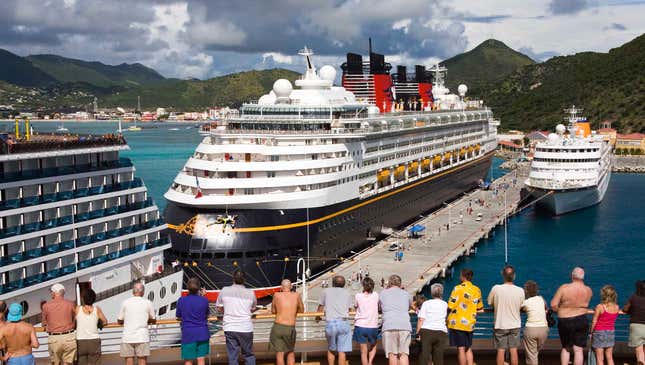 Summer is a popular time of year for cruises, with everyone from singles and families to veteran passengers and honeymooners hitting the high seas on luxury liners to visit destinations around the world. Here are some tips for turning your cruise into a vacation you'll never forget:
Before embarking, carefully study the figures in the brochure to get your enjoyment face just right.
Don't sweat it if you're traveling alone. Cruises are the perfect way to meet people who are unable to escape you.
Be sure to check out the ship's daily report for fun and interesting charges you can incur throughout the day.
Speak nothing of the actions you took part in on the mainland. You are a ward of the sea now. The past is the past.
Although cruises offer lots of different activities, sometimes it's best to just sit in the sun, relax, and throw chum off the side of the ship.
Many ships offer drop-in child care. Don't let yourself think about what type of person would take a job there.
You and Jim have got to see that magician in the top deck auditorium. He's an absolute riot!
Accept the fact that your daughter will be getting beaded cornrows no matter which country you visit.
Mealtimes are an opportunity to meet other passengers, so quickly load up your plate and eat in your cabin.
Get ready to limbo! Doesn't matter whether you want to or not. We came here to have fun, not lie around in bed all day. You're doing it.
Make the most of your time at stops in port cities along the way. Absorb as much as you can about the local culture by buying a magnet with a parrot on it.
Try as you might, your vacation photos will never look half as good as the 1985 pictures of your aunt with her giant bleached perm and cheap two-tone Wayfarer shades drinking giant margaritas and piña coladas.
Americans Describe What It's Like Surviving A Mass Shooting