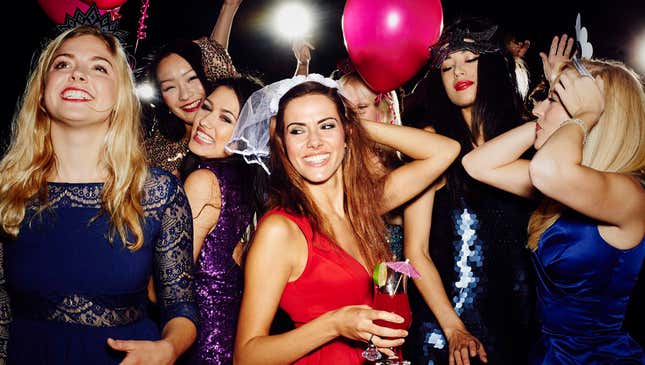 A bachelorette party is a fun way to make the bride feel special before her big day. Here are The Onion's tips for throwing an unforgettable bachelorette bash:
Due to the complex logistics of organizing such a party, it's important that, before finalizing any bookings, you carefully double-check that she still wants to marry this fucking loser.

Keep the party small, as you'll want a limited number of witnesses for the bride-to-be's transgressions.

Designate someone to take lots of candid photos throughout the party so everyone can remember how fun the bride was before she got married.

Choose your guest list carefully, as any Chippendales performers will be part of the karaoke room's total headcount.

Raucous giggling fits are strongly recommended whenever the party is on its way from one location to another.

Vet potential attendees by lower body strength. You don't want anyone on the beer trolley who isn't pulling their own weight.

Don't cram too much into the schedule of events. You'll want to set aside some time for everyone to dwell on the fact that they themselves haven't found anyone.

Let the whole town know you're getting crazy tonight by ditching the tiara for a beard of bees.

Always wait at least five seconds after the bride leaves the room before complaining about the cost of all this shit.

This Week's Most Viral News: September 29, 2023