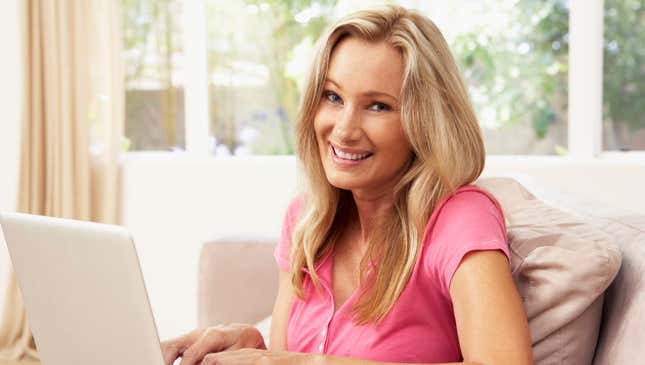 According to a national survey, 1 in 3 American couples married in the last decade met on the internet. Here are The Onion's tips for finding love online:
It's important to choose an interesting profile picture that reflects the "real you" persona that you've cooked up, like a photo of you hiking or at a volunteer event.
To stand out in a sea of suitors, include something in your profile completely unique to you, like your social security number and checking account information.
Put a Bible verse in your profile to show other men that you have a stifled, Puritanical sense of raw sexuality just waiting to be let out.
First impressions count. Before posting the photo of yourself pepper-spraying Occupy movement protesters, seriously consider if that is the image you want to project to the world.
Be willing to open yourself up to new experiences, like going on a series of terrible dates with men you despise.
Crafting the perfect online dating profile often requires a fresh pair of eyes. After you're done making your profile, enlist some friends to look it over and lie about what they think.
Personal details give potential dates a more accurate picture of who you are. Be specific in your profile by mentioning the exact episode and scene that made you give up on Lost.
Listing a minimum height requirement is a great way to weed out tiny men who would have treated you like a queen.
Humor is a huge asset in any dating profile. Be charmingly self-deprecating with lines like "I have a soft spot for reality television" and "I'm a bad listener because I'm wrapped up in my own childish self-obsession and do nothing to improve myself."
If your name is Thomas Riley, you can date other hot singles named Thomas Riley at ThomasRileyConnection.com.
Remember to relax and have fun! Sometimes, the moment you stop worrying about finding that perfect match is the moment you'll open your email and find an absolutely vulgar and disgusting email from a complete stranger.
This Week's Most Viral News: September 22, 2023