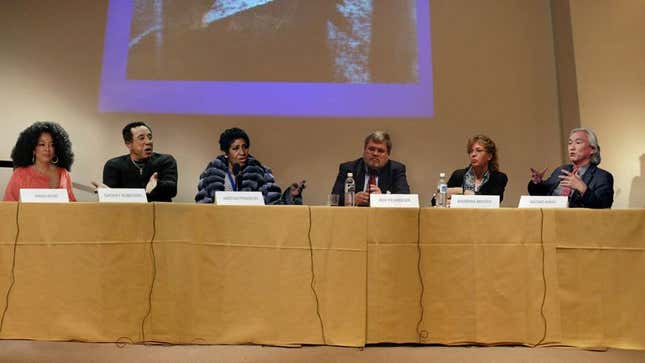 GENEVA—Drawing leading luminaries from the two fields, an international conference held this week at the University of Geneva brought together hundreds of esteemed theoretical physicists and rhythm-and-blues artists to present their research into the nature of forever.
This Week's Most Viral News: September 29, 2023
According to organizers, the assemblage of Nobel laureates and Billboard chart-toppers attended numerous sessions at the four-day symposium, where they grappled with extant questions regarding the concept of forever that remained unresolved, such as whether forever is better conceived as an infinite, four-dimensional expanse of space-time or, rather, what one second feels like when you're away from your girl.
"For many years, the R&B community has posited the classic notion that forever is presumed to go on and on like our love," said Edward Witten, a string theorist at the Institute for Advanced Study, who acknowledged that while time appears to extend unendingly, it is paradoxically composed of discrete moments such as a tender embrace or a single perfect kiss. "This assertion then raises a problem of even greater complexity: how to adequately measure the depths of one's love, a task we now know is impossible thanks to groundbreaking work by a research collective from Caltech and Motown Records."
"However, as for the commonly held assertion that forever is tonight, even a cursory knowledge of quantum mechanics suffices to prove this notion false," Witten added.
Throughout the conference, highly acclaimed scientists and romantic crooners provided illuminating presentations and participated in roundtable discussions attempting to explain the multifaceted concept of forever. Renowned theoretical physicist Dr. Sourendu Gupta reportedly lectured on the existence of diverse, distinct subsets of forever, ranging from the distance between the first and last events on a temporal axis of infinite length to the amount of time you want to spend looking into your sweet baby's eyes.
Eight-time Grammy winner Usher, sources confirmed, offered a lengthy dissertation that suggested forever was the duration for which we will make love into the night, while Dr. Michio Kaku utilized intricate mathematical models to challenge inconsistencies in Diana Ross and Lionel Richie's long-accepted theory claiming two hearts could beat as one for an endless amount of time.
Furthermore, Smokey Robinson, who achieved worldwide recognition for profoundly transforming humankind's understanding of forever, appeared on a panel of quantum physicists, soul icons, and divas, expounding on his smooth, sultry, innovative hypothesis that time changes, rearranges, but you are forever.
"Things come and go, but one thing I know is you are forever," said Robinson during an afternoon session titled "Assessing The Conceivable Limits Of Time (Our Love)" in which he also disputed a joint analysis by Musiq Soulchild and Dutch physicist Martinus Veltman estimating that the probability of a love that lasts forever was "one in a million." "Baby, you are my now and then."
"You're forever and ever, baby, baby, ever, ever, and ever," added Robinson. "I cannot remember when I didn't love you. Oh, love you, oh, love you, love you. Love you, love you, hey yeah. Love you, oh, love you."
In Wednesday night's distinguished keynote address, a shirtless, sweat-drenched Ginuwine aimed to refute widely held beliefs within the scientific community that forever is unobservable, contending that a tangible, practical understanding of forever underpins such common activities as always being there, never stopping, and sharing an eternal love between us.
Expanding on the Temptations' pioneering work in the 1960s, a special subcommittee headed by Boyz II Men, CERN director general Rolf-Dieter Heuer, and producer Keith Sweat sent shockwaves through the entire conference by introducing a so-called unified theory of you are my everything. According to the research team, their all-encompassing thesis has the capacity to account for a broad variety of phenomena, from a life of love that won't ever change, to each moment with you being a dream that came true, to finding the closest thing to an angel one has ever met, to all of one's tomorrows being for you, babe.
"This grand underlying principle supports the conclusion that forever sometimes lasts only a moment before it's gone, gone away," said Heuer, who noted with consternation that modern thermodynamics appears to rule out an endless love just as it does perpetual motion. "But we can plainly observe long-term phenomena like the cosmic background radiation, primordial B-mode polarizations, and the love between India.Arie and her man, all of which seem to have existed since the universe's infancy."
"We have only scratched the surface of understanding forever, much less forever and ever," he continued. "It is my sincere hope that the groundwork laid this week will inspire the researchers and smooth performers of tomorrow in their enduring quest to find the only one for now until the end of time."